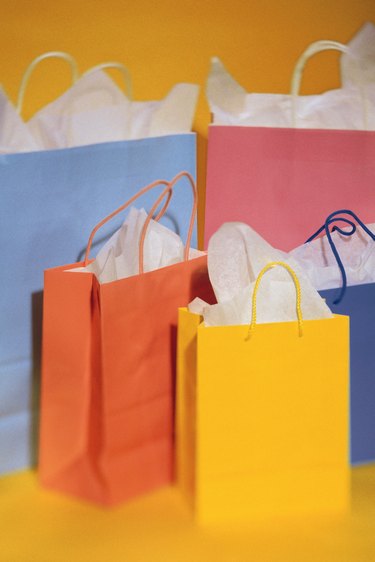 If you're helping to organize a fashion show, it's essential to send each guest home with a gift bag full of sample cosmetics used in the show and items that will promote other vendors at the function. Both practical and fanciful items are appropriate for a fashion show goody bag, and will remind guests of this enjoyable event for months afterward.
Makeup
Fill the fashion show gift bags with sample-size bottles of foundation that the makeup artists used on the models. Include small compacts filled with blush – one for women with cool skin tones, and one hue for those who have undertones on the warm side of the color wheel. Include at least two small tubes of lipstick, one for cool-toned skin and the other for warm tones, along with lip glosses that nourish and protect. Include the business cards of the companies that distribute the makeup, in case guests are interested in purchasing more cosmetics, or include a gift card for a free makeover or cosmetic item at a local high-end department store.
Fragrance
A fragrance from a company that is sponsoring the fashion show makes a fitting addition to the goody bag. Sample bottles of the fragrance that the models are wearing, along with other perfumes created by the same brand, will give show attendees the option of wearing a warm, musk-like scent for the fall and winter, or a floral perfume with citrus notes during spring and summer. Complementary items to the fragrance, such as scented lotions and body washes, are indulgent gifts that could make the scent last longer.
Edible Gifts
The companies that provided concessions for the fashion show should receive publicity from you by offering items to be included in the gift bags. Mini bottles of water are appropriate, along with sample boxes of chocolates or cookies. Gift cards for nearby restaurants or establishments that have sponsored the fashion show make fitting presents for the gift bag as well, so the guests can enjoy a meal or free dessert after the event.
Fashionable Accessories
Accessories that will enhance the look of any outfit will make the fashion show goody bags even more appealing. For instance, a pair of sunglasses from a popular designer or a hair accessory that was featured in the fashion show should be included. A fashionable scarf, pair of earrings or a watch will impress show participants as well. A gift card offering attendees discounted fine jewelry or a free accessory at a local department store or boutique will complete the gift bag.