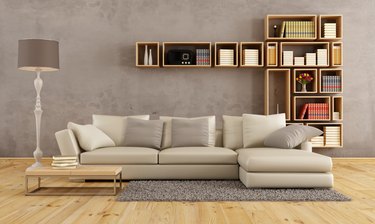 Gray is a chameleon color; it adapts itself to almost anything you mix with it. But achieving a sophisticated gray living room -- even when your style is rustic -- requires more restraint than risk-taking. It's easy to create an elegant, relaxing space when you stick to neutrals as accents or dominant focal points in a gray room. And it's essential to match warm tones with warm grays and cool colors with cool grays to avoid visual dissonance.
Gray on Gray
Gray goes really well with gray -- and the combination is so low-key that you can mix a number of tints and shades. Pale gray walls with even lighter gray baseboards and trim look richer with a charcoal carpet and gunmetal gray velvet sofa.
Upholster a couple of antique fauteuils in a discreet gray-and-white striped linen and hang lead-gray taffeta curtains from the ceiling to pool on the floor.
Dark gray stucco, the color of old, worn stone, showcases a mix of gray patterned fabrics on daybeds and chairs. Gray-on-gray or gray-and-white pillow ticking on pillows and flat cushions; tattersall on sofa, chair and table skirts; wide gray stripes on more throw pillows and curtains; and a gray-and-smudged-white harlequin-painted floor lend a touch of theater to an ordinary living room.
White, Cream, Taupe, Tobacco
Smoky or ash gray walls with snowy trim are sharp, if a bit predictable. Try warm cream or antique white trim with a warm-spectrum gray to keep things harmonious. Taupe, greige and other toasty shades -- like unbleached linen -- give off a Zen vibe in the living room and mix well with glass and chrome pieces.
Tobacco and other woody shades are a match for gray's intensity and create balance in a minimalist or contemporary room. Try a light-to-medium gray on the walls with natural wood trim, a faded Persian carpet patterned in dark and light grays, creams, linens, chestnut browns and burnt umber, and a couple of unpainted bentwood chairs and a tobacco leather chaise for a room that's so tasteful it's practically edible.
Nifty Tints of Gray
Tinted gray paint opens the door to new color combinations that play off the undertones in the wall color. Gray with a touch of green -- like the color of *Spanish moss** -- invites accents that underscore the gray's slight green cast. A teal enameled chandelier with gilded detailing leads to a couple of tarnished gold toss pillows on the platinum gray suede couch.
A hint of mint might be just the thing with greenish-gray paint -- light gray and mint wide-striped brocade upholstery on side chairs is subtle and suitable in the room. Or go dark with olive velvet drapes, a charcoal leather sofa, and moss, cloud and gunmetal gray abstract area rug.
Jelly and Gem Tones
Splashes and dashes of bright color take advantage of gray's inherent harmony. Cover the room in various shades of gray to feature the star of the show: a garnet-red Victorian sofa in the middle of the room.
Paint a citron and lemon chevron around the walls at chair rail height and cover two contemporary side chairs in yellow leather.
Mix gray linen, wood and brown furniture in a medium-gray room but enliven the environment with tangerine throw pillows, blood-orange Murano vases on the slate mantel and a large abstract painting with splotches of crimson in a field of white, charcoal and smoke.
Gray and violet or amethyst coordinate smoothly. Reserve touches of violet, with its blue cast, for a cool gray room; add amethyst silk curtains, pillows or lampshades in a warm gray room.