Things You'll Need
Paint

Paint rollers

Bed

Nightstands

Chest of drawers

Small chest

Area rug

2 chairs

Small table

Lamp

Desk

Framed pictures

Wall mirror

Curtains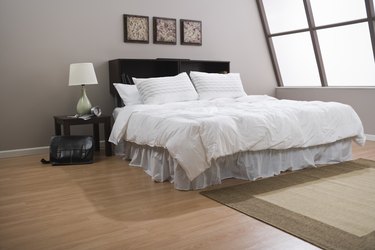 An L-shaped master bedroom poses decorating challenges because of the nontraditional shape. However, the L-shape does lend itself in creating two different areas in your bedroom, expanding what you can do with it. The bedroom can be combined into a sitting room that offers a retreat from the rest of the home or an office area, depending on how you want to approach the room. Working carefully, you can create a master bedroom that you will truly enjoy.
Step 1
Paint the walls a color that you find soothing and relaxing. In the smaller section of the L-shape, paint a complementary color that is darker or lighter to further separate the area from the traditional portion of your bedroom.
Step 2
Place the bed against the top of the L-shape. This will help to separate the two areas from each other even more. Put nightstands or end tables on either side of the bed to store books and alarm clocks. This prevents your room from getting too cluttered.
Step 3
Choose a chest of drawers for the room. Select a tall chest of drawers to put along the wall near your bed, and a low set to go across the bottom or underneath a window on the far end of the room where the L-shape ends.
Step 4
Place a chest or small sofa at the end of the bed depending on your storage needs and personal preference. The chest can store extra linen and blankets and still serve as a seating area for your room.
Step 5
Lay down an area rug in the alcove portion of the L-shaped room. The area rug will help to separate the space from the rest of the room.
Step 6
Arrange the furniture in the alcove section to your liking. If you have a desk, arrange it to face the window or the far wall so that it is even more separated from your bedroom. If you are creating a sitting area, two comfortable chairs with a table and lamp in between will furnish a relaxing space.
Step 7
Hang pictures above your bed and in the sitting or office area of your room. Hang a mirror across from a window to create a feeling of more space and to brighten the room during the day.
Step 8
Pick drapes that complement the room. Drapes that hang to the floor will help the room appear more spacious. If you have furniture under the window, choose curtains that only hang as long as the window.
Tip
You can also create an exercise area in the alcove space by storing a treadmill and other exercise equipment there. Another option is a changing area with a dressing table. If you choose this, then put your dressers and chest of drawers in the area.