Things You'll Need
Measuring tape

Pencil

Fabric

Pins

Sewing machine

Drill with bits

Laser level

Wooden dowels 3/8-inch diameter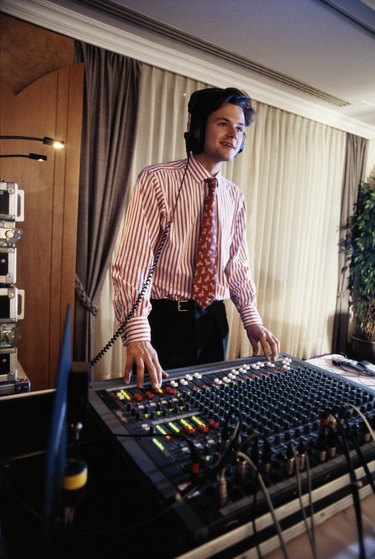 Sliding curtain panels are similar to sliding room dividers because they slide on tracks, and each panel moves independently from one another. Panel curtains provide the ideal amount of light into the room because you control how they sit. Sliding curtain panels such as these can cost from $150 and up depending on the number of panels and where you purchase them. Make these sliding curtain panels for under $50 in just one afternoon.
Step 1
Measure the distance across the door or space that the panels will cover.
Step 2
Divide that measurement by how many panels you want. A sliding glass door can support from three to five panels, while a big picture window could have up to seven or eight.
Step 3
Measure the depth of the frame of the window or door the panels will cover. Divide that by how many tracks you want. Each panel will sit on a track; to have them each stack one in front of another when open, you will need a track for each panel. You can also have them alternate so when open they are twice as big as the individual panel.
Step 4
Mark with a pencil the location of each track on the frame. Use a laser level to mark the same locations on the other side of the frame. The laser level will ensure that the tracks are at the same height.
Step 5
Measure and cut the fabric into the size of the panels, adding 4 inches to the width and 5 inches to the height.
Step 6
Fold the raw edges of the fabric toward the underside and pin all the way around. Sew a 2-inch seam all the way around each of the panels.
Step 7
Fold the top edges of the panels over again 3 inches and pin in place. Sew the edge of the fabric to create an opening that the tracks will slide into.
Step 8
Drill at each of the pencil marks on the frame with a 3/8-inch bit to make a hole about ¼ inch deep.
Step 9
Insert one 3/8-inch dowel into a hole and slide on one to two curtain panels. Slightly bend the dowel to insert the other end into the corresponding hole on the other side of the frame. Begin with the hole closest to the window.
Step 10
Repeat for each dowel. To alternate the panels, slide two on each dowel. Then, pull one panel all the way to the opposite side; pull the first panel from the other track beside it. Next, pull the second panel from the first track beside the last panel.
Tip
You may not be able to find dowels exactly the size you need. However, a hand saw cuts dowels easily and quickly. Just sand the cut end before inserting into the frame.