It's no secret that I love creating a rad little bohemian bedroom. I can't tell you how often I get asked to put together a cohesive, boho bedroom. It seems to be what everyone is after these days, and I can't blame them. Having a relaxed, well lived-in space to come home to every day is definitely high on the priority list.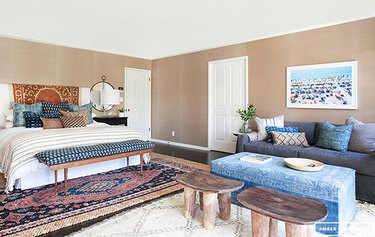 The boho movement tells a story that everyone can relate to. It takes you beyond home borders to exotic places that maybe you've never been to before. Sounds great, right? Let's talk about how to create the look in your home.
Step 1: Start With Basics
So to begin, just like anything in life, don't over think it - start with the basics. Why? You can never screw up the basics. It's important to pick basic furniture, like your bed frame and nightstand, that you won't easily grow tired of. These pieces should be timeless investments that you'll have for years to come, so don't be afraid to spend a bit of cash. Remember that these pieces will eventually tell your own story.
Now you have the basics for your future boho bedroom... What's next?
Step 2: Pick Your Rug
Everyone knows that I'm a tad rug obsessed. I just cannot say no to a beautiful vintage rug and I don't think you should either! Choose a rug that speaks to you – so much so you can't live without it. I don't care if this rug is bright, light, cheap or expensive. Just be sure this piece screams YOU.
If you have a basic jute area rug, add your new one over it and layer away. This is a great way to add more depth to the room without too much effort.
Step 3: Accessorize
After you obsess a bit over your new rug(s), it's time to accessorize the room – my favorite part – ya'll know this! This is the step that freaks people out a bit. Let me start by telling you that it's all about the mix, so do not stress.
First, pick a color that accents the rug well, and then go from there. Pick TONS of different textures, patterns, colors and just dive right in. To allow flexibility, be sure to keep your bed linens neutral so you're able to layer on the textiles. When it comes to pillows, there's no rule of thumb here – go ahead and mix away! I usually just start throwing pillow combos together and then edit until it looks right. Then I'll add a fun throw or a sheepskin to create a bit more texture in the mix.
A Few Tips...
Don't forget to do a little homework.
Do NOT try finding everything in one spot or else you're just going to produce a bedroom straight from a catalog. Those bedrooms may look pretty but that's not you – and certainly not me! Look around in local stores you enjoy and pick items that stick out. They may work, they may not – you can always return them.
Don't buy items just to buy them, pick accessories that tell your personal story.
Where have you traveled to? Where do you want to travel? What do you treasure? Once you find these items, you'll be on your way to creating the bohemian bedroom you've always wanted.
When picking items that are a bit more difficult to come across, search a second-hand store or website.
These are great places to find exactly what you want, even if you didn't know you wanted them in the first place. Also, do not pass up the opportunity to go to your local flea market. Flea markets are awesome – you can bargain prices, feel thrifty, and have fun while you're at it. Although, don't be bummed if you don't find everything you're looking for the first time – sometimes it takes a few trips.
After all your plotting, hunting, and shopping, hopefully you'll end up with a perfect bohemian mix that speaks to you. The outcome should seem effortless, well-lived in, and look like it always existed.
Now go create the bohemian bedroom of your dreams!