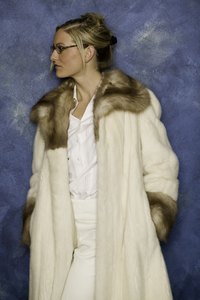 Sewing fur can be a problematic and time consuming task. Standard sewing machines often lack the required force to pierce through fur fabric and the tiny fur hairs can get caught in the machine and destabilize sewing patterns. Machines specifically designed for sewing fur garments are available but are typically more expensive than standard machines. Fur can also be sewn by hand, but requires more refined techniques.
Cutting
A furrier's knife should be used when cutting segments of fur garments in preparation for sewing. This will minimize damage to the material and make the sewing process easier. A very sharp penknife can also be used but this may result in a less precise cut. Mark the point of incision using chalk and place the garment fur side up on a flat, level surface. Having another person hold both sides of the fur as you cut will improve your chances of a clean cut.
Collars
Fur collars should be attached with a needle rated 90 or 100 for sharpness. Keep to the direction of the nap when sewing and use around nine stitches for each inch of material. Hand basting should be done on the seam lines. This will prevent them from slipping out of place when using a sewing machine. Collars should be attached using a crochet hook. Remove any pile that comes loose from the fur as you sew. Avoid drawing the stitches too tight as this may cause the fur to pucker and lose it shape.
Cardboard
A piece of cardboard can make the sewing process easier if attaching two pieces of fur on the same garment. Position the cardboard between both pieces of fur before starting to sew. This will create pressure on the pelts and keep the edges clearer so you can sew more concisely.
Deep Pile
Cut around half an inch of pile for seam allowance if sewing through a deep pile fur. Use a zipper foot when sewing the seams in place. Make marks for measurements using a washable marker or chalk as these will cause minimum damage to fur.
Seams
Employ the furrier's technique when sewing seams. Sever the fur backing with a razor blade rather than a scissors. This will reduce the risk of damaging the nap of the fur. Sew using an overcast stitch when bonding butted edges together. Press seams with your fingers to open them up before resorting to other means. For stubborn seams, position the garment on a needle board with the fur side facing down and separate using an iron.
Fur Coats
Use fur hooks rather than buttons when working on fur coats or jackets. For patterns where buttonholes are required, make a slash with a furrier's knife equal to the required size of the buttonhole. Prevent the garment from stretching by sewing four strips of quarter inch twill tape on the underside edges of where the buttons will be fitted.