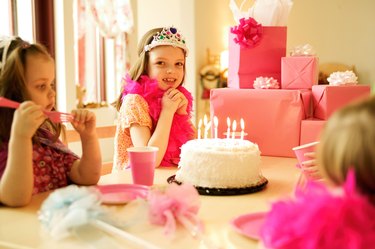 Finding a theme that your child will like for her birthday is always a challenge. If you want to make her and her friends feel even more special on her big day, a red carpet party is an ideal option. Kids are sure to get a kick out of being treated like celebrities, and you can have fun turning your party venue into a Hollywood hotspot. Keep the focus on movie star-inspired decorations and activities, and you'll create a party that you child will never forget.
Grand Entrance
One of the most important elements of a red carpet party is the decorations that bring the theme to life. The venue's entrance should feature a red carpet for the children to walk over as they arrive at the party. You can purchase a roll of bright red fabric for an authentic look, but even a long section of red plastic wrap, foiled wrapping paper, or cardboard spray-painted red can work. While the red carpet gives the party's entryway a Hollywood feel, make it even more dramatic by adding a spotlight so the kids feel like celebrities at an awards ceremony or movie premiere. An archway made of red and silver balloons can make the entrance even more special. Keep the lights dim throughout the party venue, and use white string lights to create ambiance. Hang silver star decorations on the walls, and use red tablecloths and linens to match the red carpet.
Food
While you probably won't convince kids to eat the kinds of fancy foods served at Hollywood parties, you can make kid-friendly items look a little fancier. Serve guests ginger ale, sparkling juice or water in plastic champagne glasses. For a more dainty feel, opt for smaller versions of kids' favorites, such as mini burgers, pizzas and hot dogs. Use silver or gold metallic plastic plates, and place a decorative doily in the center. Treat the guest of honor with a star-shaped cake that features sparkling candles for a dessert worthy of a movie star.
Activities
At a red carpet party, get the kids involved in a rousing game of movie-themed charades. You can hand out gold trophies that resemble Academy awards to the teams that guess the most correct titles. Kids may also get a kick out of singing karaoke, and you can create a small stage area with a piece of red satin fabric as the curtain. You can also create an area where the kids can pose for glamour shots that make them feel like movie stars. Keep some fun dress-up supplies on hand, like feather boas, sunglasses, fedoras and costume jewelry so the kids can give themselves a glamorous new look. After the party, you can put the photos in cardboard frames and send them to the guests as a keepsake. For older kids, let the guest of honor choose a couple of her favorite movies and screen them at the party, complete with dimmed lights and buttered popcorn.
Party Favors
For a red carpet birthday party favors, put together movie star loot bags. Fill small red and silver gift bags with items like sunglasses, flavored lip glosses and star-shaped pocket mirrors. You can also include Hollywood-themed picture frames and key chains. Include the guest of honor's favorite red colored candy, such as jellybeans, lollipops, licorice and candy-coated chocolate pieces. You can also add gift cards to local movie theaters so guests can enjoy a day at the theater.