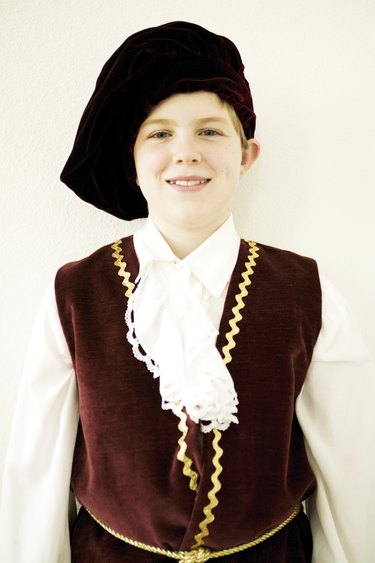 Forget about boring costumes purchased at a department store: This Halloween, show off some creativity by creating a homemade costume inspired by a well-known fairy tale. By constructing a homemade costume, it's easy to save money while giving the costume a personal touch that can't be bought at any store.
Royalty
Many fairy tales share stories about kings and queens, princes and princesses or similar figures. Create a costume that has the boy looking like royalty. For a prince costume, dress the boy in a navy button-up shirt with the collar pulled up and navy trousers. With a cape crafted out of colorful corduroy and golden rickrack, a crown and a sash adorned with bottle-cap medals, any boy can look like His Royal Highness. Transform the look into that of a king simply by adding a fake beard to the costume.
Heroes
Create a costume that embraces the look of a favorite fairy tale do-good-er. An everyday outfit is transformed into a fairy-tale costume when decked out with a tunic created from a piece of burlap and a beanstalk made from stuffing the legs of green tights with cotton. Iron the name "Jack" onto the front of the tunic to let everyone know the boy is from "Jack and the Beanstalk."
Villains
Not every boy wants to play nice for Halloween; instead, let him be a fairy-tale villain. Whip up the look of an evil wizard by crafting a robe out of dark gray fabric and rope, and add a pointy hat from some felt. Complete the look with a long beard and face paint to give the boy an exaggerated, sinister look. Alternatively, a piece of fuzzy, brown cloth and some rope for definition make a good outfit for a troll or ogre. Messy hair, face paint that looks like dirt and a club round out the costume.
Animals
Some boys' favorite fairy-tale characters happen to be animals. Begin a "Puss in Boots" costume with trousers, a ruffled dress shirt, and a cape made from fabric and rickrack. Pin a tail made out of stuffed tights to the pants, attach felt kitty ears to a dark-colored hat and then paint whiskers and a cat nose to look more feline. To look like a bear from "Goldilocks and the Three Bears," adorn the hood of a brown-hooded sweatsuit with felt ears. With a little face paint and a bowl of porridge, the boy has an easy costume.