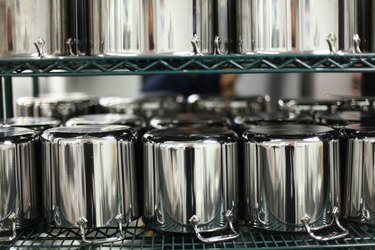 All-Clad produces a wide range of American-made, dishwasher-safe pots, pans and other cookware. They are are available in coated or uncoated versions and in a variety of thicknesses and formulations. All-Clad products are rated for both stove-top and oven uses, provided the proper cooking procedures are followed.
Most models are constructed primarily of stainless steel, copper and aluminum blends, although some items are available without copper. Bonding the various metals together allows All-Clad pans to take advantage of the unique thermal properties of each metal. Copper offers efficient heat conduction and dispersion, stainless steel provides strength and corrosion resistance, and aluminum helps keep pots and pains lightweight. Stainless steel, copper and aluminum have high heat-conductivity coefficients compared to other cookware materials, according to a recent publication by Utah State University.
Oven Use
All varieties of stainless steel All-Clad cookware are safe for oven use, provided the proper precautions are followed. Do not exceed oven temperatures of 500 degrees Fahrenheit and avoid using the broiler with nonstick pots and pans as doing so may damage the delicate coating. Always wash before using as reheated food films can cause discoloration in the oven. Preheat pots and pans gently over low heat before adding to the oven and only add salt after the food has begun cooking; salt added too early may cause pitting in the surface of the metal.
Care and Cleaning
Clean All-Clad pans after each oven use, avoiding harsh products such as chlorine bleach or oven cleaner. To clean the interior of All-Clad pans, use a soft scrub or powdered cleanser such as baking soda. Apply the cleaner and scrub the pan surface in a circular fashion. Follow by cleaning with hot water and dish soap, then rinse and dry immediately. Clean the exterior of the pan with a soft cloth or nonmetallic scrubbing pad and rinse well with slightly warm water.
Further Use Considerations
Use wood, nylon or plastic utensils with All-Clad pans. Although metal utensils can be used, they may damage nonstick coatings or otherwise mar polished cookware surfaces. Cook on low or medium heat whenever possible to prolong the life of pots and pans. The unique heat retention characteristics of All-Clad cookware allow users to achieve higher heat levels with lower settings, with the exception of boiling. The sound made by food contacting the pan surface can help fine-tune heat settings; ideally, foods should make a sizzling sound when added to the pan, rather than a crackling. Crackling means the heat is set too high and needs to be reduced.