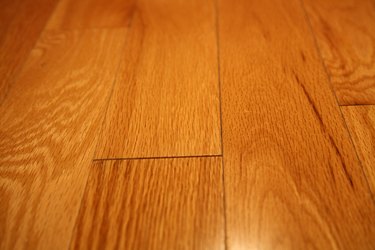 The rich brown and red hues of maple cabinetry will make the kitchen or bathroom appear especially warm and welcoming. If you've decided to add hardwood flooring to your home as well, there are several hardwood flooring shades that will coordinate or contrast with the maple cabinets well to create a space that fits your decorative preferences.
Red Maple Cabinets
Maple cabinets that have red undertones, such as Armstrong's Bordeaux or Holly from Cabinets Delivered, pair nicely with hardwood flooring in a mahogany stain. This will give the bathroom and kitchen a monochromatic feel, especially if the walls or paneling are painted a deep amber or maroon color. Or, choose a contrasting hardwood floor color that will make the cabinetry appear more intense. For instance, a light wood natural or oat-colored finish will make the red maple cabinets stand out.
Light Brown or Yellow Maple Cabinetry
A modest-colored hardwood floor, such as Oakland Wood Floor's Puritan Pine or Cherry, will complement maple cabinets with a light or natural finish such as Bisque or Ivory Mist from Cabinets Delivered. The pastel-like colors will make the bathroom or kitchen appear more open and spacious. A wooden floor with a darker stain will provide a visually appealing contrast; a stain like Ebony or Jacobean adds more pronounced color to the room without taking away from the soft maple cabinetry color.
Medium Brown Maple Cabinetry
Hardwood floors like Oakland Wood Floor's Nutmeg and Golden Oak or Armstrong's Country Natural maple hardwood floor will help to pick up some of the yellow and tan flecks in the pronounced medium brown hue of Armstrong's Toffee or Mocha cabinetry. These cabinet hues stand out against wheat or nutmeg-colored walls, and flooring in the same shade as the walls will make the kitchen, bathroom or bedroom appear more uniform. Flooring that is darker than the cabinetry can make any room especially stately and inviting; Red Mahogany or Midnight Mahogany from Oakland Wood Floors will bring out the red and dark brown tones in the cabinets.
Dark Brown Maple Cabinetry
Dark brown maple cabinets like Ebony from Cabinets Delivered or Espresso and Autumn Brown from Armstrong will appear even more striking paired with a contrasting medium brown hardwood floor like Armstrong's maple Burnt Almond or Caramel. If you want to maintain the dark wood theme of the room, choose flooring with a Midnight Mahogany or Ebony stain from Oakland Wood Floors or Armstrong maple hardwood flooring in Black or Cocoa Brown.