Things You'll Need
Screwdriver

Putty knife

Pry bar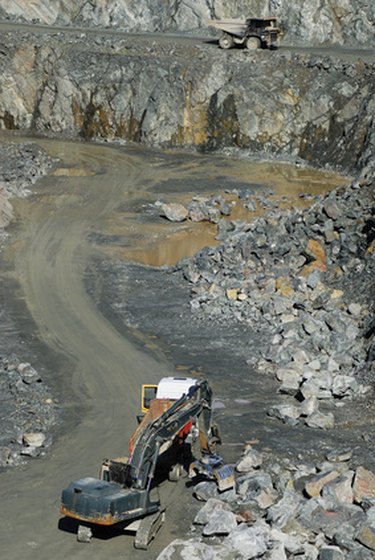 Remodeling a kitchen or bathroom inevitably produces waste. Some of the waste---such as countertops---are still valuable, depending on the quality and condition of the material. Rather than loading a dumpster with old countertops, explore your recycling options. Countertops are often recycled into new building projects and home improvements. You may find a way to put your old countertop to good use and keep it out of the landfill.
Step 1
Hire a professional or deconstruction service to remove a countertop if you plan on reusing or recycling it. It is possible to salvage the countertop on your own; however, it does take a bit of knowledge and finesse to remove it without causing damage. To do it yourself, turn off the water and disconnect the sink plumbing, remove the fixtures, unscrew the sink mounting screws underneath the countertop and remove the sink. Turn off the gas and disconnect the gas line to the stovetop. Disconnect the electrical to the stove. Remove the stove top. Remove all drawers and pull outs from the cabinets. Loosen the caulk between the backsplash and wall with a putty knife and carefully pry off the backsplash with a pry bar. Unscrew mounting screws holding the countertop in place, loosen any adhesive and lift off the countertop. If the countertop is tiled, remove tiles before removing the wood.
Step 2
Hire a professional to customize and install a salvaged countertop on garage or basement cabinetry. Reuse as many pieces of trim and hardware that were removed with the countertop as well. Have a professional cut and polish salvaged granite countertops for stylish window sills in a bathroom, backsplashes, or transplant a kitchen countertop to the bathroom.
Step 3
Donate a salvaged countertop to Habitat for Humanity. In addition to green building programs, Habitat for Humanity sells donated, reclaimed home improvement items---including building materials---through its ReStores, as a way of funding their building projects. Donations are accepted at ReStore locations. Contact the local high school or community college shop teachers to offer your salvaged countertop for educational purposes. Also, check with local churches and organizations that do home improvements and repairs for the elderly and handicapped.
Step 4
Research prices for new countertops similar to your salvaged piece. Place classified ads in the local newspaper and on-line to sell your salvaged countertop. Contact green building contractors in the area, as well. Many green builders use reclaimed materials in building projects. Negotiate the price, but do not expect to sell it for the price of a new countertop. According to Planet Reuse, reclaimed building materials are 15 to 20 percent less expensive than their new counterparts.