Things You'll Need
Transition strip and track

Wood screws or construction adhesive

Straightedge

Tape measure

Circular saw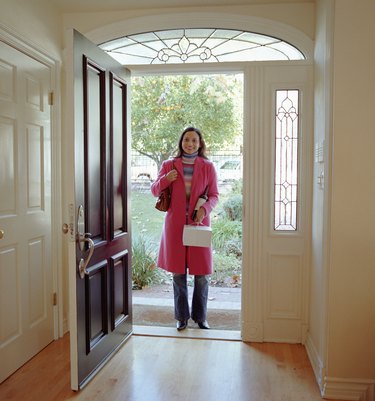 Invented by a Swedish company in 1977, Pergo is the original laminate flooring, and it remains a go-to flooring choice for budget-conscious homeowners. Consisting of 3-foot planks that snap together, Pergo floors float over the subfloor rather than being attached by nails or glue. This feature makes the floors easy to install, but they require baseboards and special transition strips in doorways to hold them down. The transition strips, of which there are several types, are available from the same dealers that sell the flooring. The best choice depends on the material of the adjacent floor.
Step 1
Choose the type of transition strip you need based on the thickness and material of the adjacent floor. Use a reducer if the other floor is thicker than the Pergo you're installing and a T-molding if it's the same thickness. If you're transitioning to carpet, use a carpet end-cap.
Step 2
Install a metal track to hold the transition strip in the middle of the doorway. It should be 1/4 inch away from the existing floor. Screw it to a plywood subfloor with wood screws. If you're installing on a concrete subfloor, glue the track with construction adhesive and wait overnight for the adhesive to set.
Step 3
Draw a line 1/4 inch away from the track with a straightedge and pencil. Install the Pergo flooring in the doorway. Whether you install the boards parallel or perpendicular to the doorway, the edge of the floor should be on the line.
Step 4
Measure the width of the doorway with a tape measure and cut the transition strip to that measurement with a circular saw. Allow a 1/4-inch gap at each end of the strip so it will fit without your having to bend it.
Step 5
Snap the strip into the track to complete the installation.
Tip
You can mill your own transition strips, using hardwood lumber and a tablesaw. If you nail one down, always nail it to the subfloor and not to the Pergo flooring.
If have to butt Pergo against an existing metal track for a sliding door, leave a 1/4-inch gap between the doorway and the floor and fill the gap with acrylic latex or silicone caulk.
Warning
Always wear protective eyewear when cutting Pergo flooring with a circular saw. Flying shards from the plastic surface can damage your eyes.