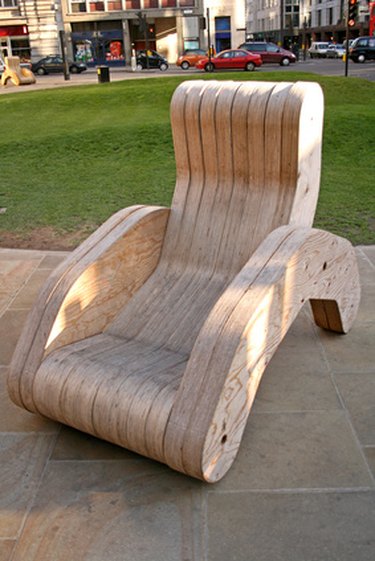 Laminate is a product created by bonding two or more layers of thin material together to form a thicker, stronger material. The process of wood lamination has ancient origins. Traces of laminated wood have been found by archaeologists in the tombs of the pharaohs. The Chinese shaved wood and glued it together more than a thousand years ago. Wood lamination continued to evolve as technology refined the process for ever-changing laminate applications.
Early Modern Era
The English and French used a form of laminate using layers of hardwood in furniture making in the 17th and 18th centuries. Russia used a similar process in the 19th century. All of these early laminates were used to make household items such as cabinets, desk tops, chests and doors. Construction-grade laminates such as plywood, made from softwood, did not appear until the 20th century.
Patent
John K. Mayo of New York City was issued a patent for plywood on December 26, 1865. A reissue of Mayo's patent, dated August 18, 1868, described the invention as "cementing or otherwise fastening together a number of these scales of sheets, with the grain of the successive pieces, or some of them, running crosswise or diversely from that of the others." Apparently, Mayo never made money on his patents.
Production Begins
In 1905, at a World's Fair in Portland, Oregon, the Portland Manufacturing Co. showcased wood panels laminated from a variety of softwoods from the Pacific Northwest. The product, called three-ply veneer work, was created using paint brushes to spread the glue and house jacks to press the pieces together. By 1907, the company installed an automatic glue spreader and sectional hand press to produce 420 panels a day.
New Uses
Until 1920, laminates were used exclusively for door panels. That year, Elliot Bay Plywood in Seattle began selling plywood to car manufacturers for use on running boards. The lack of waterproof adhesives in plywood led to running boards made of metal by the 1930s. In 1934, Dr. James Nevin, a chemist working for Harbor Plywood Corp. in Aberdeen, Washington, formulated a waterproof adhesive for the lamination process.
Plywood Manufacturers Organize
In 1933, the various plywood companies operating in the Pacific Northwest organized to form the Douglas Fir Plywood Association. Uniform standards were devised for interior and exterior grade plywood, and its use in construction before, during and after World War Two boomed. In the late 1950s and early 1960s, Georgia-Pacific Corp. began making plywood using southern pine. In 1964, the Douglas Fir Plywood Association changed its name to the American Plywood Association.
Engineered Wood Products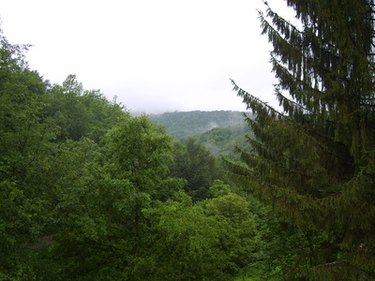 In the late 1970s and early 1980s lamination began to produce oriented strand board. Plywood is made by laminating solid sheets of veneer. Oriented strand board is made of small wood strands glued together in cross-laminated layers. Other engineered wood products using lamination available today are wood I-joists, laminated veneer lumber, glued-laminated timber and oriented strand lumber. All of these laminated products offer strength, performance and the conservation of forest resources.