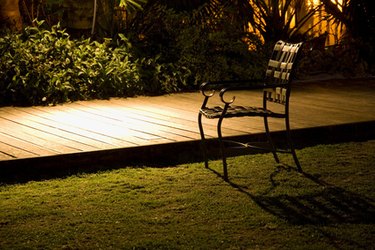 Teak reigns number one for outdoor projects, but teak's hefty price tag and dwindling availability make woodworkers think twice about using it. Rubberwood was once a waste wood but has surged as a viable option for furniture pieces. Not as well suited for use outdoors, rubberwood does finish well and is easy to work with.
Facts
Rubberwood comes from rubber trees (Hevea brasiliensis), which grow in plantations in tropical climates in Asia, Africa and America. Rubber trees produce latex and have historically been used only for collecting this component of rubber. Since rubber trees only produce latex for around 30 years, people would cut them down at the end of their useful lives and burn them as firewood. Since the 1980s, people have sawed rubberwood for lumber and sold it as an eco-friendly product since the wood is salvaged from timber that would otherwise have gone to waste. Rubberwood is also called parawood, white teak and Malaysian oak. Teak is native to Indonesia, India and Central America. The trees can live up to 100 years, but are usually harvested for lumber when they are about 40 years old. Loggers have to drain teak of water before cutting it down, a process which takes one to two years. Teak is a hardwood birch and it contains a highly water-resistant resin in the cambria (the heartwood) that makes this species impervious to decay, insect invasion and bacteria.
Identification
Rubberwood varies from nearly white to yellow or cream in color. It has dense, straight grain with a coarse texture similar to that of oak. The grain, however, is symmetrical as opposed to oak's wavy patterns. Rubberwood's color is similar to teak, but much lighter. Teak is yellowish-brown to dark golden-brown in appearance. The grain is straight and the wood has an uneven texture as well as an oily feel as a result of the resins inside wood cells. The resin is also responsible for teak's consistent sheen. With a specific gravity (SG) of .604, teak is more dense than rubberwood (SG=.557), and it has a heftier feel.
Function
Builders use rubberwood primarily for furniture pieces, as it is a strong and durable wood that stains well. It also serves in flooring and in finish construction millwork. Since the wood has very little shrinkage, it is one of the most consistent and stable furniture lumbers on the market. Teak originally served as shipbuilding material since it is so resistant to decay and water damage. It is now synonymous with high-end outdoor furniture, decks and outdoor structures like pergolas. Boat manufacturers continue to use teak for decking.
Costs
Teak's long growth cycle prevents the supply of teak from meeting worldwide demand. Consequently, prices for teak have risen rapidly, over $20 per board foot in 2010. Rubberwood is much less expensive. It costs about 60 percent less than teak.
Considerations
Although rubberwood is resistant to fungus, bacteria and mold, it needs a preservative before you can use it for outdoor pieces. Rubberwood is best suited for indoor projects while teak claims top billing for outdoor pieces.