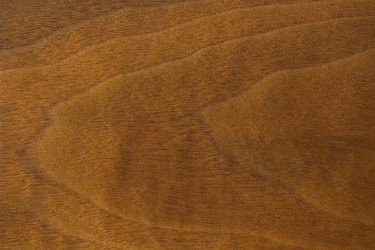 Even though walnut and cherry are both hardwoods, they look very different -- with each wood bringing its own decorating panache into a home. You can incorporate walnut and cherry wood in a variety of ways -- from a small accent piece to a major focal point. Choose the wood that fits your decorating needs and enhances existing furnishings.
Wonderful Walnut
Walnut is durable, resistant to decay and aesthetically pleasing. While there are several varieties of walnut, the American black walnut is a favorite wood used for creating stunning furniture pieces to show off the wood's natural, rich brown tones and wood grains. For flooring, Brazilian walnut is harder and more suitable than black walnut. Add a twist of modern elegance to your kitchen with a sleek walnut island and matching cabinets.
Captivating Cherry
Cherry is easy to work with, accepts stain well and ages nicely, taking on a rich brownish-red shade with a golden luster as it gets older. Add cherry furniture pieces to your home to enhance traditional style. Even though cherry is a soft wood, you can use it for floors with low-traffic patterns. Give your kitchen and bathrooms a sophisticated, classic ambiance with genuine cherry cabinets; add granite countertops to complete a high-end look.