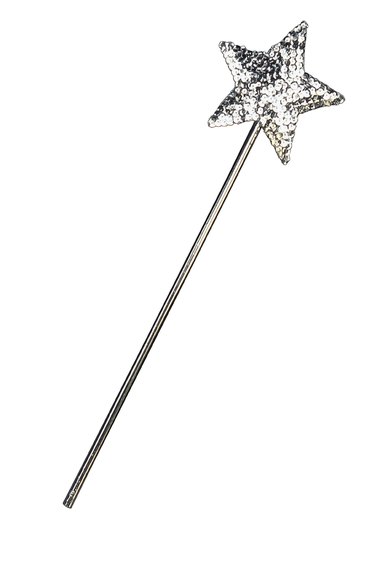 While fairy costumes for adults are readily available at costume shops and Internet stores, you can make your own fairy costumes at home as an opportunity to express your creativity or even recycle items you already have in your closet. Simply start with a concept, such as a forest fairy, garden fairy, water fairy, gothic fairy or fairy princess, and build the costume from there.
Wings are a crucial part of any fairy costume. You can create fairy wings using stockings or tights stretched over wire clothes hangers that have been bent to the shape of each wing piece and decorate them with paint and glitter. Make them in colors that would best fit your fairy's personality. Each set of fairy wings is composed of four wing pieces that are gathered and tied in place. The wings are then pinned to the back of the fairy costume or they have arm loops that allow you to wear them like a backpack.
A wand that is embellished with ribbons, beads and glitter makes an eye-catching accessory for an adult fairy costume. Make fairy wands from painted, thin pieces of wooden dowel or lengths of plastic sticks. Glue a cut-out plastic shape, painted cardboard shape or decorated pipe cleaners or wire bent into a star shape onto the tip of the wand. You can spray the wand and star with metallic paint and then decorate as desired when the paint dries.
Whether you want to sew your own dress or recycle it from your closet, your fairy dress should absolutely match your fairy concept. A plain green or brown dress would suit a forest fairy, a blue dress would work for a water fairy, a black dress would be fitting for a gothic fairy and a frilly pink dress would be perfect for a fairy princess. Both long and short dresses are appropriate for fairy costumes, but other options include leotards or bathing suits worn with a tutu, ballet skirt or pettiskirt. You can further embellish fairy costumes by adding beads and glitter.
Shoes, Stockings, Flowers and Fingernail Polish
Wear fresh or silk flowers in your hair, especially if you want to dress up as a nature or garden fairy. Other options include weaving the flowers together to create a crown or hot-gluing plastic flowers to a large hair clip to wear in your hair. Apply fingernail polish to your fingernails to match or accent your costume's colors. Wear stockings or tights with your fairy costume: white or pink for a fairy princess, nude stockings for a nature fairy, black fishnets for a gothic fairy and thigh-highs for a naughty fairy. Wear ballet slippers, ballerina flats or high heels in appropriate colors to finish off your costume.