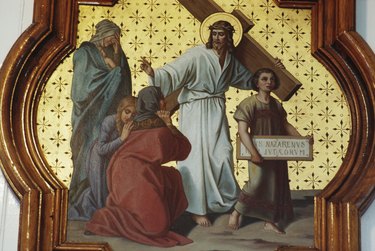 Dressing up as a disciple is a fun way to teach a child about Christ. There are 12 disciples of Christ and these figures are featured prominently in the Christian Bible. All of the disciples are males, but girls can also have fun dressing up as a disciple. Dressing up as a disciple is a common activity for students who attend parochial schools. The pieces needed to create disciple costumes are available for purchase online, but can also be created at home.
Disciple's Gown
The foundation of a disciple costume is a long-sleeved gown. These are usually white or beige in color. Having the child wear a plain long sleeved shirt can create the look of a long sleeve gown. A white pajama dress can also serve as the gown. If the child will wear this costume to play in, any solid colored outfit with long pants and long sleeves will serve as the undergarment.
Disciple's Caftan
A highly recognizable part of a disciple costume is the brown caftan worn over the gown. A caftan can be sewn from brown fabric using a pattern. Alternatively create a caftan by placing the child's head in a hole cut into a long rectangular piece of fabric. Pin or sew the sides of the fabric together under the arms or leave them open. Some people wear a solid colored white or brown robe to serve as the caftan. Tie a belt made of rope or a piece of fabric around the caftan to complete the look.
Head Coverings
The disciples lived in an area of the world that was hot. It is evident from artwork from the time that head coverings were commonly worn by men. Make a head covering by wrapping the child's head in a rectangular piece of fabric and tying a rope around the head to secure the head covering.
Props for Disciple Costumes
Peter carried a sword he used to defend Jesus. Andrew traveled to the Mount of Olives with Jesus and also accompanied Jesus on the fishing trip that produced the miracle of the loaves and fishes. Add a toy sword, olive branch, loaf of bread and or fish to the your child's costume to remind people of those biblical passages. A Judas costume can be symbolized by carrying a small bag with 30 silver coins.