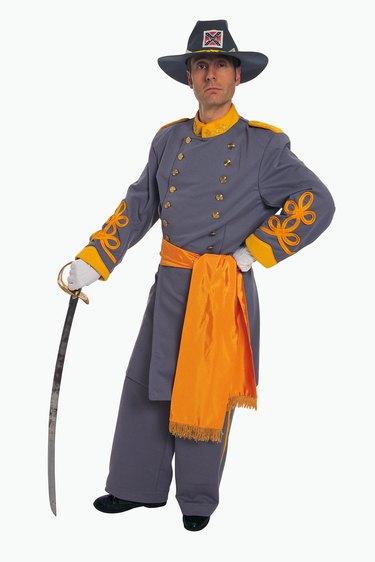 No matter what the occasion, including Halloween parties, costume balls or other events, competition for the prizes in costume contests can be fierce. Come up with creative ideas for prizes that will reward the contestants' hard work. To be interested in entering the contest, contestants must feel that the prizes are worth competing for a chance to win.
Professional Costumer Session
Give your winners a session with professional costumers and makeup artists. For the costume contest prize, arrange a session for them with a professional costumer at a theater, movie or television studio, or photography studio. During the session, the winners can choose from a variety of costumes or wardrobe pieces that are used in films or television shows, stage performances and photography shoots. Professional hair and makeup artists can also create different looks for the winners.
Trophies and Plaques
Treat the winners of the costume contest as celebrities. As a costume contest prize, present them with trophies or plaques in a mock Academy Awards, Golden Globe or Screen Actors Guild awards ceremony. Create categories for the awards ceremony that are focused on costumes, such as most creative and original costume, scariest costume and best costume taken from television, comic book or movie characters. Inscribe the winner's name, costume category and date of the contest on the award.
Accessory Theme Gift Baskets
Playing on a character theme, award gift baskets as prizes in the costume contest. The theme gift baskets can tie in to the costumes that contestants might wear in the contest. For a gift basket inspired by royalty, fill it with a fake or toy king or queen's crowns, royal scepters and capes. A police officer's gift basket can contain toy handguns, police officer's badge, handcuffs and baton.
Another Costume
Because they've entered the contest, one thing you know about your contestants is that they enjoy dressing up in costumes. As a prize for winning the costume contest, award them a gift certificate to a costume store. They can use the gift certificate to purchase costumes for future contests, costume balls, holiday parties or other events. Make sure the amount of the gift certificate is large enough so that the prize recipients don't have to pitch in any money to cover their purchases.