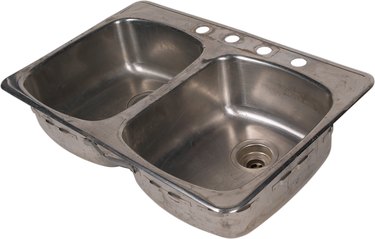 When designing a new kitchen or remodeling an existing one, choosing a kitchen sink is an important part of the planning. Along with picking the best sink material for your needs, you must choose the dimensions and depth of the sink or sinks as well as the best placement.
Measuring Procedures
The size of the sink depends on the size of your cabinets; every sink has minimum cabinet size requirements. Standard kitchen cabinets are 24 inches deep, measured from front to back. To assess your available space, measure front to back and then side to side, adding 2 to 3 inches on both side measures to have ample room for mounting. Measure the space underneath the cabinet to ensure there is enough room for the depth of the sink. Take into account the backsplash behind the sink, which can take up to 1 1/4 inches off the available space. If there is no backsplash installed, use the available space for the sink, and protect the wall behind it with adhesive-backed tile.
Sink Sizes
Kitchens 150 square feet or smaller typically have 22-by-24-inch single-bowl sinks. Larger kitchens usually have two side-by-side sinks that measure a total of 22-by-30 inches. Both styles are normally 8 inches deep.
Number and Placement of Bowls
You can add as many bowls as your cabinet and plumbing space can handle. The sink bowls can be the same size and shape, or you can mix and match them. If the space under the sink is big enough, you can make the bowls deeper to accommodate tall pots, or for convenient washing and paring of vegetables and fruits, install a shallow, smaller sink in between the two larger ones. Double sinks configured for corner spaces are also available.
Drain Considerations
Evaluate the drainage and plumbing for the sinks before choosing sizes and configurations. Many plumbing layouts require that one sink is equipped with a plain stopper/strainer and the other designed to accommodate an under-counter garbage disposal. Garbage disposal units are typically bulky, so the space under the sink must be adequate.
Tappings
Choose faucets based on the number of sinks, their sizes and your needs. Faucets range from centrally-placed single-tap faucets up to five taps for sink accessories such as sprayers, dedicated hot and cold taps and soap dispensers. Some sinks require air gaps, a hole in the back of the sink to enable proper drainage of the disposal and dishwasher.