A farmhouse sink is typically a large tub with an exposed lip that hangs over the front of your cabinet. A farmhouse sink has a lot of exposed porcelain. Scratches on the porcelain will be even more visible than other sinks. While a farmhouse sink is often used to add rustic charm to a kitchen, scratches will quickly downgrade the sink from rustic to run-down. Spruce up your farmhouse sink with by patching the scratches and damaged areas.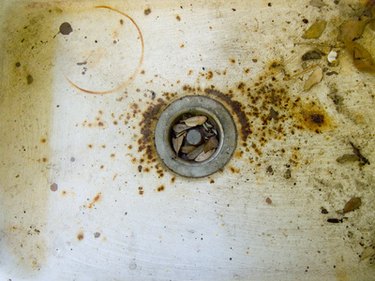 Things You'll Need
Epoxy Primer

Paintbrushes

Bonding Agent

Sandpaper

Trisodium Phosphate

Acrylic Topcoat

Paper Towels

Palm Sander
Step 1
Combine trisodium phosphate (TSP) and water in the ratios recommended on the TSP packaging. Spray the solution on the front and inside of the sink. Scrub thoroughly with a rag.
Step 2
Sand the sink with a palm sander and medium-grit sandpaper to create a smooth surface for the epoxy primer. Remove sanding dust with a damp cloth.
Step 3
Take the medium grit paper off the sander and replace with fine grit paper. Sand the sink again. Remove the sanding dust with a damp rag.
Step 4
Rub a thin coat of bonding agent onto the sink surface with a paper towel. Allow the bonding agent to dry for five minutes.
Step 5
Apply epoxy primer to the sink with a good-quality paintbrush. Fill the brush with enough paint to coat the brush without dripping. Apply the primer in a thin, even coat, lifting the brush before it begins to make brush lines. Paint the entire sink. Let the first coat dry.
Step 6
Run a piece of fine grit sandpaper under water. Buff out any imperfections in the sink's surface with the sandpaper. Wipe out the sink with a clean towel.
Step 7
Paint the sink with a second coat of epoxy primer, using the same method used to apply the first. Let the second coat dry.
Step 8
Apply acrylic topcoat over the epoxy primer. Brush on two to three thin layers of topcoat. Let each coat dry completely before applying the next one. Give the topcoat a day or two to set properly.
Tip
Re-coating the sink is the best way to resurface the porcelain and cover scratches. You can also fix just the scratches by using a patch kit. However, it can be difficult to match the color of an older sink exactly with a patch kit.