Things You'll Need
Tape measure

Dressmaker's pen for making measurements

Pins

Seam ripper

Scissors

Thread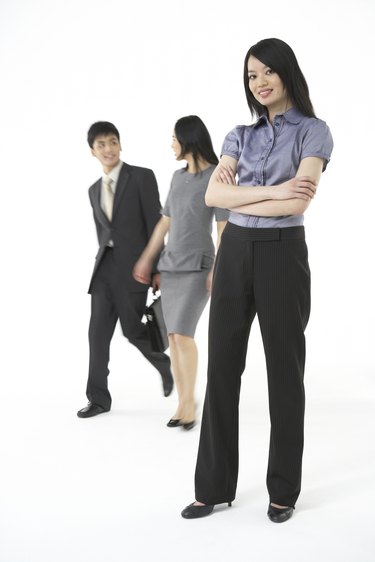 The rise of a pair of pants refers to the distance between the waist and the crotch. The fabric will wrinkle through the stomach and upper hip area if the rise is long. It is possible to shorten that distance by either lowering the waist or lengthening the crotch seam. Modern fit in pants also has trended toward a lower rise in the past few years with the top of the pants sitting slightly below the waist. Usually, you can make an alteration of 1 to 1 1/2 inches without affecting pockets and zipper placement.
Step 1
Try on the pants, making a horizontal tuck with your fingers in the fabric until the waistband is resting in the position that you want. Pin the tuck.
Step 2
Check to see that zipper and any pockets are unaffected and check to see if you will need to adjust the hem if length is taken from the top of the pant.
Step 3
Remove the waist band with the seam ripper.
Step 4
Mark the top and bottom of tuck in fabric. Unpin and measure.
Step 5
Reduce the length of fabric you need to remove by 1/2 inch to allow for a seam and trim length from top of pant.
Step 6
Match waistband to pant. If the pant waist measurement is now too large, you can make it fit by increasing the depth of any darts. If there are no darts, you can create them by making a small pleat in the front and back at an equal distance from the center seams.
Step 8
Open waist band and press flat. With right sides together, pin to top of pant.
Step 9
Sew to top pant with waist band facing upward.
Step 10
Fold waist band over pant. If needed, refold the original 1/4 inch crease in the waistband edge. Topstitch the seam joining the waistband to pant.
Warning
Remember: while you can shorten the rise, you cannot lengthen it. Make sure you are satisfied with fit before cutting into the fabric.