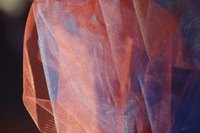 Tulle is the net-like fabric used to make tutus and to add fullness to skirts. Tulle fabric comes in 6-inch-wide rolls, which is easy to use when making a no-sew tutu, because it eliminates a majority of the difficult cutting. A roll of tulle is also more expensive to buy than simply purchasing tulle from a bolt, by the yard. There is an easy way to cut tulle from the bolt for a tutu that does not result in ragged edges, and long hours of precise cutting to achieve.
Things You'll Need
Cut your tulle fabric into pieces that measure 1 to 1 1 1/2 yards. Bolts of tulle usually are 54 inches wide, which is about 1 1/2 yards.
Smooth out the piece of tulle on a flat table, then grab one end of the tulle and begin to fold it up in a long strip between 2 and 3 inches wide and 54 inches long. The ends are going to look ragged. Feel along the tulle starting from the end, work your way along the fabric, squeezing it to find where it becomes thicker. Cut off the end at the point where it begins to feel thick.
Cut the folded roll of tulle into 6-inch-wide increments or rolls.