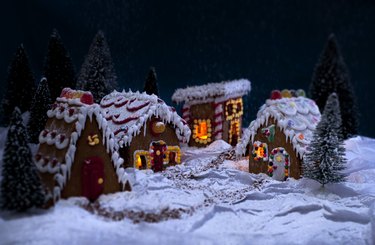 If you love decorating for Christmas, you might like to create a Christmas village. You can make a Christmas village from styrofoam blocks to make small Christmas houses, using cardboard for the base. Then, bring your village to life with paint, fake snow, figurines and other accessories.
Things You'll Need
Cardboard

White paint

Paintbrush

Styrofoam craft cubes

Exacto knife

Acrylic paints

Glue

Spray adhesive

Fake snow
How to Create a Christmas Village With Styrofoam
Step 1: Paint a cardboard base
Find a cardboard base on which to set your completed styrofoam village. Be sure it is about the size you want your completed Christmas village of styrofoam to occupy and that it is thick and strong enough to accommodate your design. Then, paint it white using acrylic paint. The larger the brush, the quicker this painting process will be.
Step 2: Paint and cut styrofoam cubes
You can use styrofoam cubes like those found at a craft store to make small houses or shops for your Christmas village. Paint them first. Colors like green, red, brown and blue look lovely in a holiday village.
Once you've finished painting and the paint has dried thoroughly, use a sharp knife or razor blade to cut two angles on the top of the square. You'll want them to form a point at the top, so that the piece of styrofoam is now shaped like a house.
If you would like, you can then cut the base of the house a bit thinner on each side, such that the triangle on top has "eaves" that hang over the sides.
Step 3: Paint the base of the house
After you've painted your base coat and cut out the roof, add another color to the bottom part of the house or shop. If you used green on the roof, for instance, try red on the base of the structure. This will make your village look more realistic and add visual interest.
If you'd like, add embellishments like windows, doors, lights or Christmas wreaths. Add roof shingles using a slightly darker color paint than you used on the roof, and apply delicately with a small brush. The sky is the limit when it comes to decorating the buildings in your village.
Step 4: Glue the houses to the base
Attach the houses and shops to the base using glue. Avoid the use of hot glue, since it can melt the styrofoam.
Step 5: Glue on snow and accessorize
Use spray adhesive to add glitter or fake snow to your holiday village for a more festive touch. If you don't have fake snow, try gently tearing stuffing, batting or cotton balls so the fibers stretch out and begin to resemble snow.
Additional ways to decorate your village include adding small people, animals or vehicles. Trees, bushes, light posts and traffic lights can also add realism to your tiny town. Depending on the size of the village you've created, small toys that you already have on hand may be appropriate.
Use a small mirror laid on the "ground" of your winter wonderland to create a skating rink for the village's inhabitants. Build a small bridge out of cardboard or toothpicks to create a walkway over the pond or over a blue-painted river on the village's base.