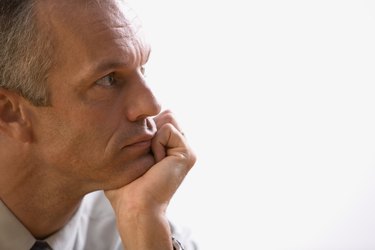 Turning 50 is an important milestone in anyone's life. However, it brings with it stresses about aging, accomplishments and placement in life. Men may feel that life has passed them by or that they're not where they wanted to be. Likewise, they might hide these feelings and not be open to discussion. Luckily, there are some things you can do to deal with men turning 50 in order to help ease the stress of this age milestone.
Step 1
Throw a party for him that gets together a large number of his friends, especially ones that are 50 or older. This reminds him he's not alone and that all his friends are aging too.
Step 2
Assure him he's doing fine in life. Many men stress over where they think they should be at 50, as far as career success, house size, retirement savings and other achievements.
Step 3
Encourage him to get healthy and see a doctor. Some men are reluctant to see doctors, even if they're not feeling in tip-top shape. Encourage him to see a doctor and adopt healthy habits, such as regular exercise and eating right, if he hasn't yet.
Step 4
If he's worried, remind him that changes in his body are natural, such as muscle loss, increased fatigue and no longer beating his son in sports. It's simply a part of life, and it didn't happen the second he turned 50.
Step 5
Ask him how his father was at 50. Chances are he won't have a particular memory of dad complaining or falling apart when he turned 50. This helps him get perspective on how he should act.
Step 6
Dissuade him from making impulsive, expensive purchases. While it's okay to pamper himself from time to time, dissuade him from making expensive purchases just because he's upset about turning 50.
Step 7
Encourage him to speak his feelings, including his fears and frustrations about aging. Speaking his feelings is healthy and can help him get over fears and frustrations.