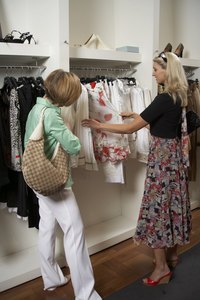 A gathered skirt is one in which a full length of fabric is pleated to a waist band. This type of skirt is very simple to make, and it typically consists of two rectangles, one for the waist band and one for the skirt portion itself. One of the first steps for any sewing project is to figure out how much fabric is required. Determining the amount of fabric necessary for a gathered skirt is a straightforward task.
Determine how long you want the gathered skirt to be. A gathered skirt is very full, and you may choose a length that falls slightly above the knee to one that falls to the ground.
Add 2 inches to the length of your skirt. This is the width of your fabric.
Measure around your waist using a measuring tape and multiply this number by three. This tells you how long your fabric needs to be.