Things You'll Need
Cotton fabric

Measuring tape

Scissors

Straight pins

Thread

Needle

Woven ribbon, 1 inch wide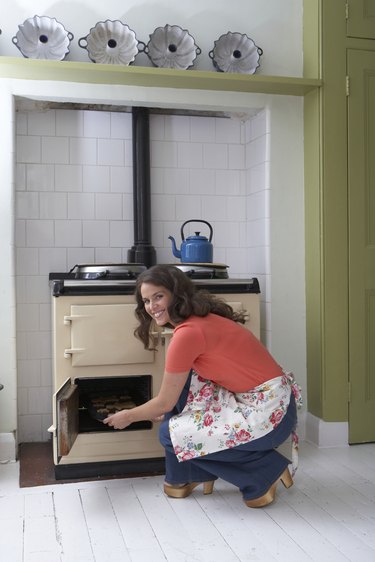 When you enjoy baking or cooking on a regular basis, you can make your time in the kitchen more exciting by wearing decorative aprons. Although you can buy eccentric and colorful aprons from a department store, they can often feel generic and commercial. Instead of buying a premade apron, make your own using a few basic materials that can be purchased from an arts and crafts supply store. This enables you to customize the apron to suit your personal taste.
Step 1
Cut out a rectangle from cotton fabric, using scissors to measure 3 ft. wide, 4 ft. long.
Step 2
Fold all of the edges over by 1 inch, and pin the edges in place using straight pins.
Step 3
Sew around the pinned edge using thread and a needle. Remove the straight pins. This will create a clean edging around the apron.
Step 4
Cut two pieces of woven ribbon using scissors to measure 12 inches long each.
Step 5
Place the rectangle horizontally onto a flat surface, right side down, and pin one end of a ribbon onto both of the top corners.
Step 6
Sew the ends of the ribbons onto their respective corners, then remove the straight pins. You can now tie the apron around your waist.