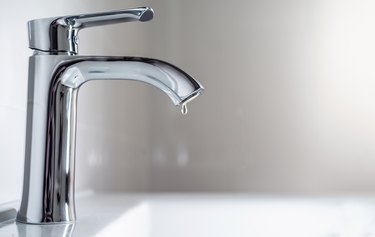 Polished nickel is a popular finish for bathroom fixtures as well as handles for drawers and cabinets. It offers a mirrorlike shine and a beautiful accent to the room. It needs to be clean to maintain its shine, and fortunately, polished nickel maintenance is easy.
About Polished Nickel Finish
Polished nickel finishes are untreated, which gives them their shiny surface. They are resistant to tarnish, and they maintain their metallic appearance. Satin nickel, on the other hand, has a more matte finish. This is typically achieved with a lacquer. Brushed nickel is not as shiny as polished nickel, but it is not quite as matte as satin nickel. As the name implies, the shiny surface is removed with a brush.
The nickel is plated over another metal, usually brass. The brass is preferred since it won't rust the way some other metals do. Polished nickel is generally resistant to corrosion. The care and cleaning of all nickel finishes are generally the same. Be sure to check the product manual that came with your fixtures or hardware for other tips and recommendations.
Polished Nickel Maintenance
Wash your polished nickel with a soft cloth and soap and water. Make sure you remove any toothpaste or shaving cream from the fixture right away. If you allow these substances to remain on the nickel, it can damage the surface over time and change the appearance of the nickel. Rinse all of the soap from the nickel and dry it with a soft cloth. Drying the surface right away will prevent water spots.
In most cases, this is all the polished nickel maintenance you will need to do. However, if mineral deposits develop on polished nickel faucets, you can clean them with a mixture of 50 percent white vinegar and 50 percent water. Spray the diluted vinegar on the faucet and then wipe it clean with a soft cloth. Vinegar can damage the finish if you allow it to soak on the metal, so wipe it clean right away.
Avoid using any harsh cleaners or abrasive pads that can scratch the finish of your polished nickel. You can use glass cleaner as long as you do not allow the cleaners to soak on the polished nickel.
Nickel Care Tips and Considerations
Nickel can tarnish over time, which deepens the color and look, although some polished nickel finishes resist tarnishing. Fortunately, it is easy to restore the metallic shine of the metal using a good chrome polish, such as Autosol or Silvo metal polishes. You can also apply Flitz wax to your polished nickel each week to protect the finish. Simply follow the application instructions on the label.
This step is especially important if you have polished nickel outdoors, such as at an outdoor sink or as hardware on windows or doors. Regularly cleaning polished nickel outdoors is important to clean dirt, residue from the rain and salt from the air. These materials can be corrosive to the finish. Make sure to drain nickel faucets and move nickel-plated faucets and hardware indoors when temperatures freeze.