Things You'll Need
Glass votive

Newspaper

Hot glue gun

Hot glue stick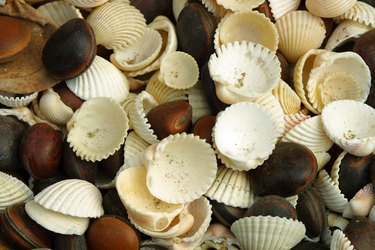 When you decorate your home in a beach or seaside theme, you can make the rooms feel fresh and oceanic by placing out seashell-encrusted accessories. For example, place small candles in a seashell and glass votive. Although you can buy seashell votive candles from a home decorating store, save money by making your own using seashells that you collect from the beach. It is important to adhere the seashells onto the glass in a way that will ensure they will stay on.
Step 1
Place a glass votive onto a sheet of newspaper. This will protect your work surface from damage.
Step 2
Insert a hot glue stick into a hot glue gun. Plug the hot glue gun into an electrical outlet, and allow the gun to heat up for 5 minutes.
Step 3
Squeeze a pea-sized dollop of hot glue onto the outside of the glass, and press a seashell onto the hot glue dollop. Hold the shell in place for 1 minute to allow the hot glue to harden.
Step 4
Squeeze a second pea-sized dollop of hot glue next to the seashell, positioning the hot glue dollop so that it is at least 1/2 inch from the edge of the shell. Press another seashell onto the hot glue dollop, and hold it in place for 1 minute. Spacing the shells out in this manner will prevent the seashells from overlapping.
Step 5
Repeat this process to cover the entire glass votive with seashells. Allow the hot glue to cool and harden for 1 minute in between each addition of a shell.
Warning
Avoid touching hot glue to skin. Hot glue can cause severe burns. Keep all hot glue tools away from children.