Things You'll Need
Measuring tape

Scissors

Duct tape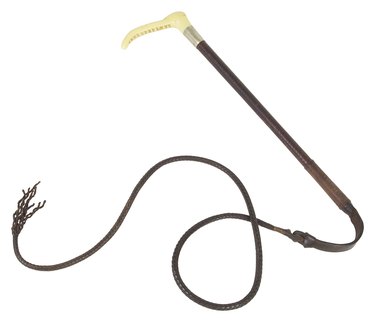 A homemade whip is perfect for playing pretend or dressing up in costume. Make your own whip out of simple rope; the thicker the rope, the better the whip will look. You can purchase colored rope from many craft or home improvement stores. Black and brown will look the most authentic, but a bright color may look good with the right costume.
Step 1
Cut three lengths of rope measuring at least three times the finished length of your whip. For example, if you want your finished whip 9 feet long, cut each piece of rope 24 feet, or 288 inches.
Step 2
Knot the three ropes together at one end securely. Braid the three strings together until the braid is roughly 3 feet long. Knot the strings together at the end of the braid. This is your handle. You will still have several feet of string trailing the braid.
Step 3
Wrap the braid in duct tape. This makes the handle more sturdy and less likely to wilt. You can wrap it several times; the more times you wrap it, the sturdier it will be.
Step 4
Trim the ropes to a length you like; 6 feet each would make your whip roughly 9 feet long. If you are making this for a child, a shorter whip would be ideal.
Tip
To make a very stiff handle, braid the rope around a thin stick or dowel.