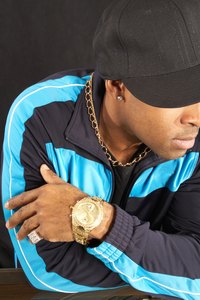 If you want to add some "bling" to a costume, you don't need to shell out big bucks. Make a fake gold rope chain out of thread with a golden sheen. Metallic threads have the gleam and rich color you want while being flexible enough to braid by hand, and they won't crimp like wire if you need to untwist it and try again. While it won't fool anyone into thinking you've got a genuine gold chain, a fake gold chain of metallic thread will have the sparkle you need.
Things You'll Need
Metallic thread
Yardstick
Scissors
Large safety pin
Gloves (optional)
Jump ring, 4 mm
Jewelry clasp, 9 or 11 mm
Decide how long you want your chain to be. Find a soft but fixed surface to secure your work to later while you twist it, such as a sofa. Or add 6 inches to your desired chain length, so you can tie your work to a chair or doorknob.
Measure out two to four bunches of thread in the length determined in Step 1. The number of thread lengths in each bunch depends on how thick you want your chain to be.
Twist one bunch clockwise to get a preview of how thick it will be when twisted into the rope chain. Add or subtract lengths of thread until you are satisfied with the thickness. Tie each bunch off at the end with a scrap of thread.
Tie the bunches together at the top, forming a knot. Then tie or safety pin the knotted top to a fixed surface. Put on gloves, if the thread is abrasive. Thread that feels slightly abrasive while measuring will become more so as you twist the thread.
Twist each bunch clockwise, starting at the top. Hold the twisted bunches by the ends, then twist them around each other. Tie off the now double-twisted bunches at the end to keep them from untwisting, leaving enough free end on each side to tie on the clasp and jump ring.
Tie one end of the rope chain to the clasp, securing it with a knot. Do the same with the jump ring at the other end. Trim the free ends.