Things You'll Need
Fabric

Scissors

Sewing machine or needle and thread

Iron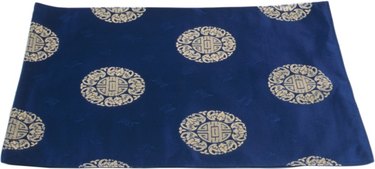 Church lap scarves are traditionally used by women to cover their knees while in church. However, these simple scarves also make an excellent accessory or gift -- they can be rolled up, tucked into a handbag and pulled out whenever needed. Church lap scarves are often made of satin with lace trim and are typically 18 inches square, but they can be made with virtually any soft fabric that drapes well, and in sizes to suit your taste.
Step 1
Lay the fabric flat on a smooth work surface. Measure and cut out the desired length and width of the scarf, allowing an extra inch to create the hem.
Step 2
Fold a 1/2-inch hem along each edge of the fabric. Press the folds with an iron. Sew the hem around the scarf, either by hand or on the sewing machine.
Step 3
Iron any creases out of the lap scarf. Cut any remaining stray threads with the scissors.
Tip
Sew lace or ribbon around each edge of the lap scarf to make it more decorative.
Express your creativity by making multiple scarves using different colours, fabrics and sizes.