Things You'll Need
Fabric golf visor

Strip of fabric or lace in a matching color

Glitter

Sequins

Beads

12 to 14 long feathers

Hot glue gun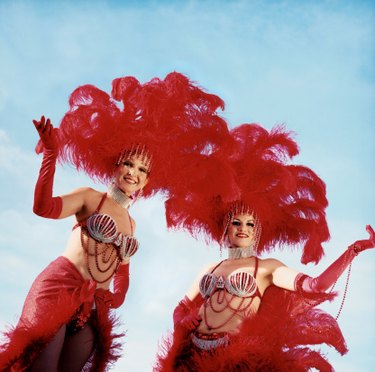 Carnival is a festive season that takes place before the Roman Catholic period of Lent. Carnival is celebrated all over the world under different names, with Mardi Gras remaining recognizable in places where the French have had a cultural influence. Revelers often wear elaborate costumes, including the iconic feather headdresses popular by parade-goers. You can make your own Carnival headdress for a parade, Halloween, or just for fun.
Step 1
Turn the visor upside down so that the bill faces upward and toward you. Glue the strip of fabric along the hat band to mask the shape. Tuck any loose ends under the hat band and glue in place for a finished look.
Step 2
Glue the glitter, beads and sequins onto the front of the bill. You can create a crown effect, follow a design, or simply create abstract shapes. Remember that the goal is to be over the top, so the more sparkle, the better!
Step 3
Turn the hat over so that the beaded front faces down. Glue the feathers vertically to the back of the hat, creating a fan shape. Let dry completely before wearing.