Things You'll Need
Hot glue gun

Hot glue stick

Silk laurel leaves

Plastic headband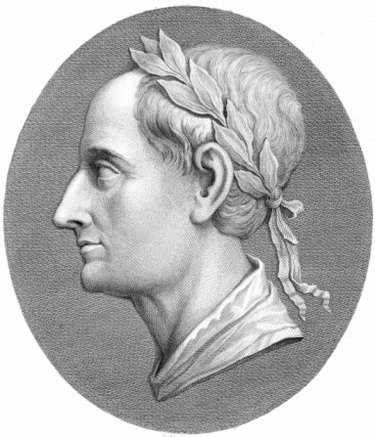 If you are teaching children about Ancient Rome and the leadership of Julius Caesar, you can make the lesson more interesting and hands-on by providing the kids with a craft related to the lesson material. For example, kids can create a laurel wreath crown, just like one that Julius Caesar would have worn thousands of years ago. You can make a laurel wreath Caesar crown using materials that can be purchased from any arts and crafts supply store.
Step 1
Pull 8 to 10 silk laurel leaves off of the plastic branch that they are on. You can buy silk laurel leaves at any craft store.
Step 2
Heat up a hot glue gun for 5 minutes. Squeeze a pea-sized dollop of hot glue onto the top of a 1/2 inch wide yellow or green plastic headband and press a silk laurel leaf onto the hot glue. Allow the glue to cool for 2 minutes.
Step 3
Squeeze another pea-sized dollop of hot glue onto the plastic headband, placing the glue 1/2 inch from the leaf. Press another laurel leaf onto each glue dollop, then let the glue cool for 2 minutes. Position the leaves so that the tips are facing towards the center of the headband.
Step 4
Repeat this process until the entire headband is filled with overlapping silk laurel leaves. Place the headband around the top of your head, as Caesar used to wear his crown.
Warning
Keep hot glue away from children, as it can cause serious burns.