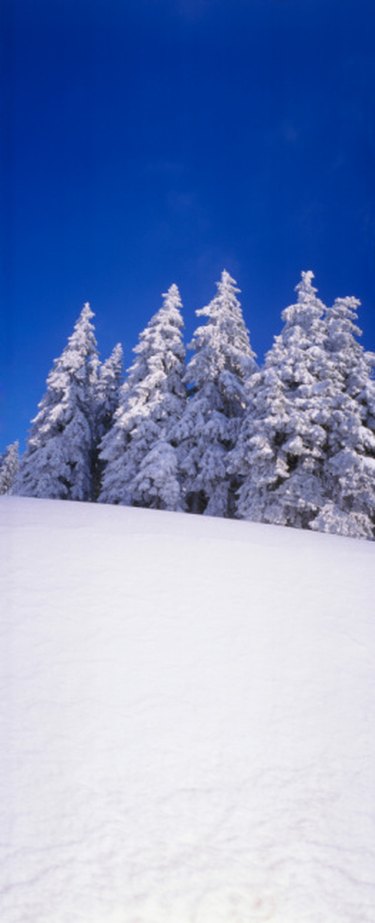 A Christmas tree is a favorite holiday decoration, stirring old memories as new ones are made. Even if you live in the tropics you can bring a realistic touch of the North Pole indoors by decorating your tree with faux snow. When separated into wisps and placed on the tree, loose polyfill creates the illusion of snow. Non-breakable polyfill is safe and easy for youngsters to apply. Shape tufts of white fluff by hand to create different snow effects, keeping the polyfill away from lights that may get hot.
Step 1
Set the tree up a few feet away from any walls to make it easier to put the "snow" evenly on all sides of the tree. String the lights on the tree before you start placing the polyfill on the tree.
Step 2
Experiment with how you want the tree to look. Larger, continuous pieces of polyfill create the appearance of a heavy snowfall, whereas smaller pieces of polyfill in length, width and height give the impression of a light snowfall — similar to a flocked Christmas tree.
Step 3
Start placing the polyfill at the top of the tree and work your way down, keeping the size of the pieces consistent throughout the branches. Step back a few feet from time to time to check on the overall appearance of the tree. Polyfill is easy to work with and since you do not need to glue the material to the tree to get it to stick, you can rearrange it countless times until you are satisfied with the look.
Tip
Arrange a layer of polyester batting under the tree around the trunk to look like snow on the ground.
Remove the polyfill from a real tree before putting the tree out for recycling or sending it through a chipper.
Warning
Exercise caution if you use older lights that generate heat. Polyfill may melt and emit hazardous gas, or it could become a fire hazard. LED lights are a safe and cool alternative.
Supervise babies or toddlers, and never leave them unattended near the tree.