Things You'll Need
Eyeglasses template (optional)

Paper

Sunglasses or eyeglasses in desired shape (optional)

Painter's tape (optional)

Pencil

Cardstock

Scissors

Craft knife

Permanent markers or acrylic craft paint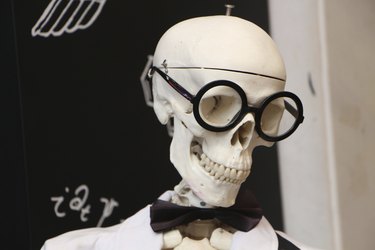 Sometimes, a costume just isn't the same without the appropriate eyeglasses. Instead of shelling out cash for prop glasses you only need for a short time, make your own from thick cardstock. Use a pair of sunglasses or a printed paper template to help design your cardboard creation, or draw your own version on paper for the perfect custom pair of fake glasses.
Step 1
Print out a paper eyeglasses template from a crafts website or draw your own on paper, sketching the entire design flat, rather than with dimension or perspective. Alternatively, trace a pair of glasses on paper by taping the paper to the table with masking tape, then rocking each portion of the glasses down so it rests on the paper as you trace it. Trace the arms of the glasses as well.
Step 2
Cut out the paper design with scissors, including the area inside the frame that would normally hold a lens.
Step 3
Place the paper glasses on a sheet of cardstock, and then trace the paper template. Cut out the design with scissors. Use the tip of a craft knife to start the hole inside the lens area for easier cutting without folding or damaging the cardstock.
Step 4
Cover the work area with newspaper, and set the cardstock glasses atop the paper. Color the front side or outward-facing side of the glasses with permanent markers or acrylic craft paints and a paintbrush. Allow painted glasses to dry completely.
Step 5
Carefully fold the cardstock at the sides of the glasses to emulate hinges. Crease each fold slightly without bending it back and forth too many times, which may make the material weak.
Tip
For thicker, more durable glasses, use corrugated cardboard instead.
Dress up the eyeglass frames with puffy paint, glued-on glitter -- or bits of tape for a nerdy look.