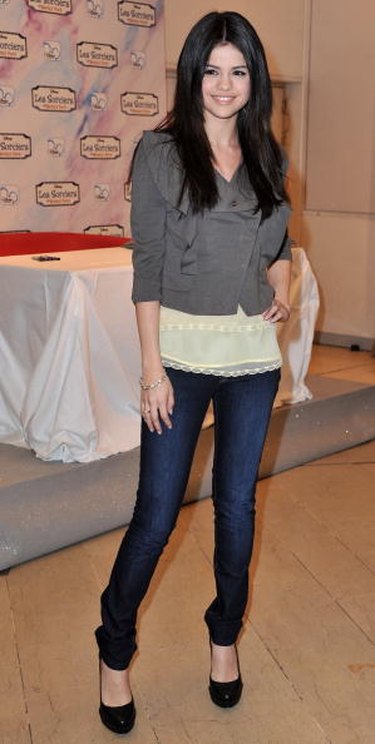 Texas native Selena Gomez is an actress and singer who is best known for her work on Disney Channel's "Wizards of Waverly Place." She has a elegant and streamlined sense of style that many girls love to emulate. You can easily dress as Selena Gomez for Halloween using items out of your own closet or a friend's closet. If you have naturally dark brown or black hair, the transformation is even easier to pull off. You can dress as Selena herself, or as one of her characters from a movie or TV show.
Everyday Selena
Step 1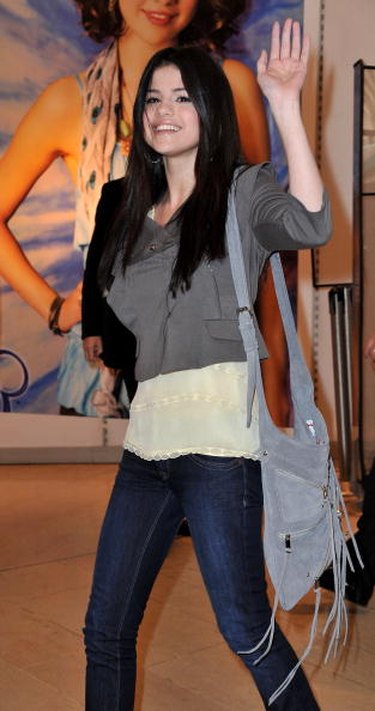 Wear skinny jeans, Converse sneakers and a loose tank or fitted t-shirt as the base for your costume.
Step 2
Do your hair like Selena's. Use a curling iron or hot curlers to curl your hair, spraying them with hairspray to hold them in place. If you do not have naturally dark hair, you can use colored hairspray or wear a wig.
Step 3
Accessorize like Selena by wearing several large rings, large earrings, several bracelets and a skinny scarf around your neck and a belt around your waist or hips. You can also add a name tag or see if your friends can figure out who you are!
Selena's Characters
Step 1
Take a friend or sister and dress as Ramona and Beezus from the movie "Ramona and Beezus." Selena's character wears skinny jeans, loose floral tops, cardigans, slip on shoes and plaid shirts. Ramona wears funky tomboy clothing, such as khaki pants, sneakers and a floppy hat.
Step 2
Dress as Alex Russo, from "Wizards of Waverly Place." She wears lots of bright colors and patterns, large earrings, multiple accessories, flashy shorts or pants, sneakers and multiple layers of everything.
Step 3
Dress as Mary from "Another Cinderella Story" for a more glamorous look. Wear a long flowing pink prom dress. Add a pink veil and a tiara along with sparkling shoes.
Tip
For a couple's costume, try dressing as Selena and Justin Bieber.