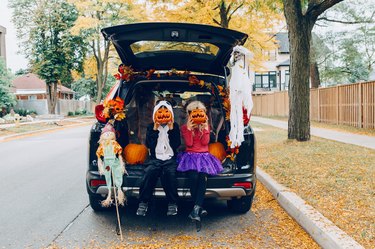 Singer/actress Selena Gomez rose to fame when she was in her teens on the Disney Channel's "Wizards of Waverly Place," and she is now a social media star, global celebrity and fashion icon. A Selena Gomez Halloween costume would be perfect this year, and there are several ideas for making some great Selena outfits for Halloween. Don't worry – you won't have to sing or act for people to know who you are.
Selena Gomez Costume Ideas
You can find Selena costume ideas by searching online for photos of her from different stages in her career. One is inspired by her "Fetish" video, when she wore a pale yellow short-sleeved maxi dress and heeled white sneakers. There's also her "Hands to Myself" video, where she had on a black push-up bra and high-waisted black underwear under an oversized, long-sleeved white shirt. To do a red carpet Selena, wear a tight-fitting, low-backed gown and heels.
For a "Wizards of Waverly Place" Selena, you can dress like her character Alex Russo. Alex wore boho dresses or T-shirts with ripped jeans and vests. These outfits were accessorized with over-the-knee brown boots and colorful beanies or headbands. You can also bring along a wand and try to cast spells on your friends.
The star is also known for her beautiful tresses, and everyone wants to know how to curl hair like Selena Gomez. You can easily mimic several of her hairstyles. For a curly look, roll damp hair around 2- or 3-inch Velcro rollers and either blow dry or leave them in overnight. You can wear them loose or clip up the layers in sections. Another way to get the curly look is to heat a curling iron, wrap 1-inch strands at a time, hold for five seconds and release.
How to Dress Like Selena Gomez
One of the best ways to find inspiration for a Selena Halloween costume is to visit her website, which has tons of close-up and full-length pictures of her. You can see how she does her eyebrows and what makeup colors she wears, not to mention all of the outfits and hairstyles. The site also sells her branded clothing with her name and picture on them; these can also be worn as part of a Halloween outfit.
You can make a costume to resemble Selena Gomez when she is performing if you want to go that route. She tends to wear black bodysuits, patterned tights, black heels and sometimes a pair of kitty cat ears. Bring along a fake microphone to complete the look. You can choose the hairstyle you like best and take the picture to your hairstylist so she can copy it or buy an inexpensive wig. Another idea is to wear an attention-getting "Selena" necklace as a finishing touch.
Even though she is 29 years old, many people think that Selena Gomez looks much younger (not to her detriment, of course). She hails from Texas, and her first television series was "Barney & Friends."
She played Alex Russo on "Wizards of Waverly Place" from 2007 to 2012, and she recently starred in "Only Murders in the Building." Some of her best-known songs are "Naturally…," "We Don't Talk Anymore," "Good for You" and "Come & Get It."
Selena Gomez has legions of fans, and if you want to dress as the star on Halloween this year, do the research and go for the outfit that speaks to you. Chances are good that you'll be recognized.