Things You'll Need
Bowl

Spoon

1/8 cup shortening (either stick or scooped form)

1/4 cup corn starch

1/8 cup white flour

Liquid glycerin (optional)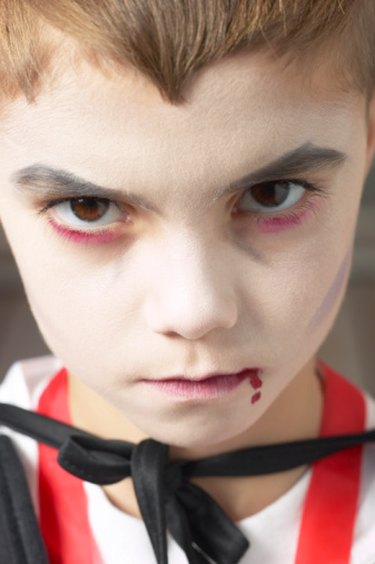 Make your own facepaint or costume makeup at home and not only will you save money and a trip to the store, you'll know exactly what you are putting on your skin. Homemade white costume makeup is ideal for many different types of applications and can be made using kitchen ingredients. You can be sure that the makeup is safe if you craft it in your own kitchen from nontoxic ingredients.
Step 1
Pour the cornstarch and white flour into the bowl and stir with the spoon to blend.
Step 2
Add the shortening and stir to blend. The mixture will form a smooth paste.
Step 3
Dip your finger in the mixture and spread it on the back of your hand. If the makeup has the right coverage, then proceed. If the makeup is too sheer, add an extra teaspoon of flour. If the mixture is too opaque, add an extra teaspoon of shortening.
Step 4
Add two or three drops of glycerin if desired and stir with the spoon. The glycerin will make the makeup glide on smoothly and extend the drying time. This step is optional.
Tip
Add food coloring a drop at a time to the white mixture to create tinted makeup.
Make makeup in advance and store in the refrigerator overnight if you are pressed for time on Halloween.
Liquid glycerin can be found in the bath section of drug or big box stores and is nontoxic and safe for all skin types.
Warning
Don't use if you are allergic to any of the ingredients.