Many dogs tolerate dressing up for Halloween or masquerade parties and seem to enjoy it just as much as children and adults. Making a cape for your dog transforms him into a superhero or can provide additional warmth for long walks in the winter. A homemade, no-sew cape is uncomplicated to make; even children can do this project. Making your own cape is less expensive than purchasing a costume for your pet at a party supply or costume store.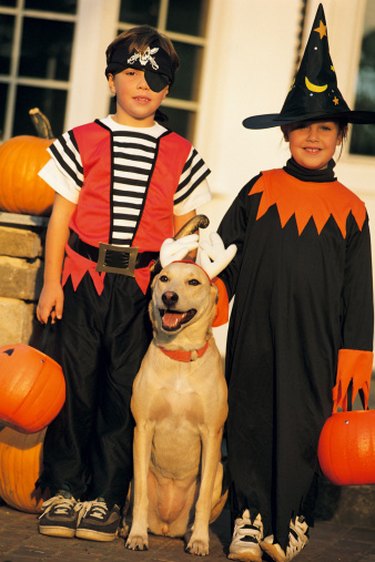 Things You'll Need
Black Or Brown Ribbon (Approximately 1/2 Inch Wide)

Scissors

Brown Or Black Felt

Measuring Tape

Safety Pin
Step 1
Measure your dog from the neck back toward his tail to the area you want the cape to end.
Step 2
Cut out the felt for your dog's cape. A 14-inch-by-20-inch piece is appropriate for a medium-sized dog.
Step 3
Fold the long side of the felt down approximately 2 inches.
Step 4
Cut the folded fabric edge with your scissors. Make 1/4-inch-to-1/2-inch slits with the scissors about every inch along the entire length of the fold.
Step 6
Attach a safety pin to one end of the narrow ribbon and close it.
Step 7
Thread the safety pin and ribbon through all the slits in the felt fabric, weaving the ribbon under and over the fabric between the slits.
Step 8
Tug the ribbon through the holes until you have about 6 inches of excess ribbon on the end attached to the safety pin.
Step 9
Hold the safety pin and pull slowly on the fabric toward the other end of the ribbon. This motion causes the fabric to gather. Once the felt is gathered as much as you want it, cut the other end of the ribbon so there is a 6 inch tail.
Step 10
Place the cape over your dog's back and tie the ribbons in a loose bow underneath his neck. Trim any excess ribbon to prevent him from tripping on it.The dog is ready to be your superhero.
Tip
Felt is perfect for the dog's cape since it is warm and soft. It does not unravel, so it requires no hemming.