Things You'll Need
Ribbon, 1/4" wide

Ruler

Scissors

Lighter

Fabric glue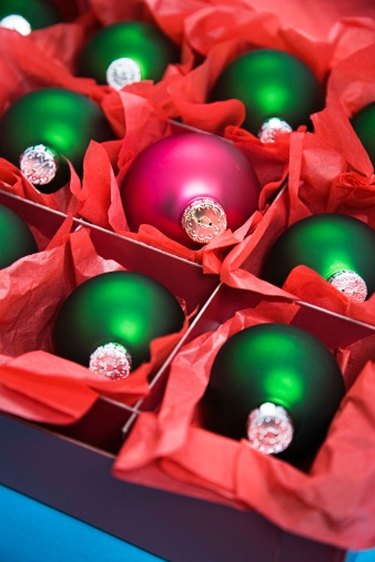 A Christmas tree decked out in twinkling lights, sparkling tinsel or garland and several ornaments creates a festive setting for the holidays. Impress friends and family this holiday season by putting forth a little extra effort when it comes time to hanging ornaments on your tree's branches. Skip the traditional metal ornament hooks in favor of using ribbon to hang those glass balls and small trinkets.
Step 1
Measure and cut an eight-inch piece of ribbon for each ornament. Heat-seal both ends of each ribbon by bringing them close to the flame of a lighter.
Step 2
Thread each ribbon through the loop at the top of an ornament. Pinch the end of the ribbon in half to get it through the loop if necessary.
Step 3
Bring the ends of the ribbon together over the top of the ornament so the ribbon is the same length on each side of the loop.
Step 4
Tie the two sides of each ribbon in a bow 1-1/2 inches above the ornament to leave a loop of ribbon for hanging the ornament on the tree.
Step 5
Place a dot of fabric glue in the knot of each bow and let it dry for an hour before hanging the ornaments to help prevent the ribbons from coming untied.
Tip
Cut a six-inch piece of floral wire and fold it in half to use as a needle if you are having difficulty getting the ribbon through the ornament's loop.