Things You'll Need
Bible

Calligraphy pen or ink pen, black or navy

Computer

2-by-4-inch self-stick labels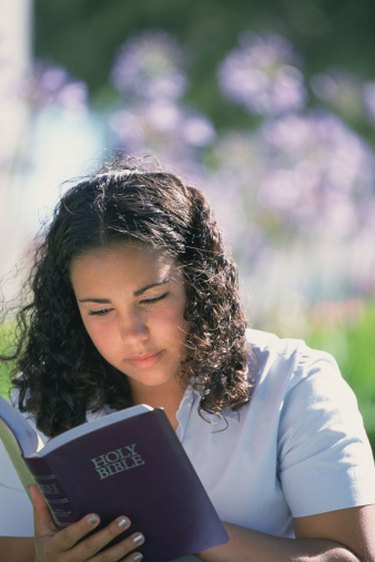 Many people cherish Bibles given to them by loved ones and friends. Bibles are appropriate gifts for graduations, weddings, new babies or most any special occasion involving religious ceremony. Inscribed Bibles are practical gifts with a personal, heartfelt touch that may be enjoyed for years.
Step 1
Shop for a Bible that will be a good fit for the person who will receive it. Consider the translation (King James, New Revised Standard, New International, etc.) print size and study aids that may be included, such as a concordance, dictionary and maps.
Step 2
Gather materials for the inscription. If you are hand writing it, choose a good pen with black or blue ink; if using calligraphy, a calligraphy pen and ink; if printing the inscription on a computer, a self-sticking label that can be put through the printer.
Step 3
Decide on the message to be included. Practice makes perfect. It is best to write the inscription on paper before copying it into the Bible. Begin by "addressing" the inscription; for example, "For my dear nephew John, on his graduation from high school." The message could go on to include a favorite Bible verse, a congratulatory note or a motivational quote.
Step 4
Copy the message onto a clean page at the front of the Bible. Some Bibles have a special page designed for an inscription. If you are inscribing several Bibles, such as for a class, you might choose to use a computer. Launch your word-processing program, select a decorative font and type out the inscriptions, personalizing each one. Then print them out on 2-by-4-inch mailing labels. Affix the labels to the Bibles.
Tip
If you are not comfortable inscribing a Bible, contact a calligrapher or a company that sells Bibles to have a custom inscription done.