Things You'll Need
Orange t-shirt or sweatshirt that is five sizes larger than the costume wearer

Scissors

Marker

Hot glue gun and glue sticks

Green felt

8-inch embroidery hoop

Green tulle

String

Green craft foam

Hat with a wide brim

Green pool noodles or other round foam

Green pants and long sleeved shirt

Yellow 2-inch-wide ribbon or belt

Pillowcase

Batting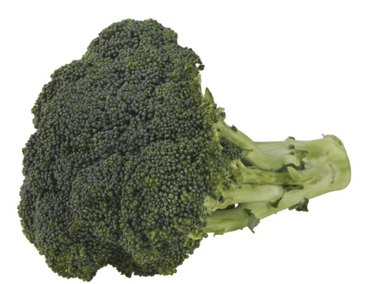 For some reason, dressing like a vegetable is more enjoyable that eating one. Making a homemade carrot, or broccoli costume is not very difficult. You don't have to sew the costumes together, as using hot glue will suffice. Change the color of the carrot costume to dress your child as a beet, turnip or parsnip. If you want to dress as a carrot, look for a long orange dress instead of a shirt.
Carrot Costume
Step 1
Cut the sleeves off of the oversized sweatshirt.
Step 2
Pull the sweatshirt on the costume-wearer and draw two angled lines from just under his arms to the bottom of the sweatshirt to make a tapered carrot shape. The carrot doesn't have to come to a point, but should definitely angle in.
Step 3
Take the sweatshirt off of the person and cut through the front and back of the shirt along the two lines. Glue the shirt together on the inside along the cut lines.
Step 4
Cut a 1-inch slit in the middle of the green felt.
Step 5
Cut the tulle into four 12-inch-long strips. Fold the strips in half and gather together. Tie a knot in the bottom of the strips, near the folded end. Pull the strips of tulle through the slit in the felt. Fluff the tulle so that it looks like the leafy green top of a carrot.
Step 6
Remove the inner circle from the embroidery hoop and drape the felt over it. Tie a knot on each end of a piece of string and place on end against the side of the inner hoop and the other end on the opposite side. Push the outer circle of the hoop over the felt, string and inner circle and turn the screw on the top of the outer circle to tighten.
Step 7
Pull the sweatshirt over the person's head. Set the green felt hoop on top of his head. Pull on one end of the string to adjust to so that the string is taut but still comfortable under his chin.
Broccoli Costume
Step 1
Cut the pieces of green foam into wavy, heart shapes to make the top of the broccoli crown.
Step 2
Hot glue the pieces of foam to the wide-brimmed hat to completely cover it.
Step 3
Cut the foam noodles or round pieces of foam in half so you have semi-circle shaped pieces. Cut the noodles to 24-inch lengths.
Step 4
Lay the green shirt out flat and arrange the cut foam noodles on top of it. Glue the noodles to the front of the shirt.
Step 5
Cut more heart-shaped pieces of green foam and glue to the shirt above the foam noodles.
Step 6
Put the green pants and green shirt on. Tie the yellow ribbon around the waist, then finish the costume by pulling on the wide brimmed hat.