Things You'll Need
Woven fabric

Sewing machine

Matching thread

Straight pin

Scissors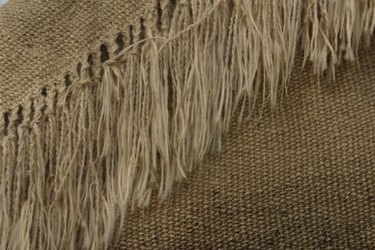 Whether you are sewing a garment or a quilt, a raveled edge in fabric can help you create a relaxed and informal appearance. Make a raveled edge by fringing the fabric. Make fringes out of fabric with a simple technique that removes some of the woven threads of the fabric. With careful unraveling, you can create a fringed fabric edge in almost any woven fabric.
Step 1
Determine where on the fabric you wish to make the fringed edge. The fabric of a seam allowance is a common fringe location.
Step 2
Set the sewing machine stitch length to 2.
Step 3
Stitch a perpendicular line about 1/8-inch away from the point where you wish the fringe to stop. The fringe will be perpendicular to the stitching line, stopping at the stitching.
Step 4
Loosen a horizontal thread (parallel to the stitching line) near the raw edge with the straight pin and pull the thread all the way out. Once you loosen and begin pulling the woven thread, it should pull free of the fabric easily.
Step 5
Continue loosening and pulling horizontal threads until you come to the stitching line. The stitching line will help create a boundary for the fringe. After you remove all the horizontal threads, only vertical threads will remain, creating the fringe.
Tip
If the horizontal threads loosen with difficulty, cut vertical notches every 2 to 3 inches along the fabric, ending the notches immediately under the stitching line. Pull the horizontal threads more easily in the smaller sections between the notches.