Things You'll Need
2 yards, 72-inch-wide tulle

Measuring tape

Scissors

Cotton crochet thread

Large-eyed embroidery needle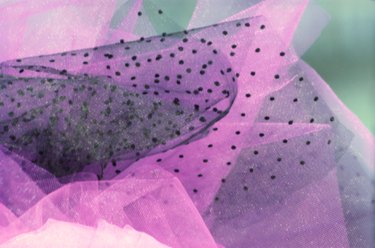 Fashionable boas are fanciful accessories with shapes similar to holiday tree garland and worn in the same way as shawls. Typically boas are made using feathers, but a less expensive option is tulle fabric. Tulle is a sheer netting fabric that is often used in the construction of bridal veils and is available in a wide variety of color choices. Make a tulle boa to add a touch of glamor to a bridesmaid dress or other formal gown.
Step 1
Measure and cut 12, 6-inch wide strips across the 72-inch width of the tulle fabric using scissors.
Step 2
Measure and cut a 6-foot length of cotton crochet thread in a color that matches or blends with the color of the tulle. This will be the length of your boa. Insert the thread through the eye of a large-eyed embroidery needle. Knot one end of the thread.
Step 3
Insert the needle in the center of one short end on one tulle strip. The knot in the thread will prevent the tulle from sliding off the thread.
Step 4
Sew a running stitch down the center length of the strip with the stitches spaced 1 inch apart. At the end of the strip, add a new strip and continue to sew running stitches down the center length. Add the remaining strips in the same way.
Step 5
Remove the needle and tie the end of the thread in a knot. This will prevent the tulle from sliding off the end.
Step 6
Fluff and twist the length of the stitched tulle to shape the circumference of the tulle boa.
Tip
If using 52-inch wide tulle, you will need 3 yards. Heavy-duty thread can be substituted if crochet thread is not available.