Things You'll Need
Polyester-cotton blend fabric

Sewing pins

Sewing machine or needle

Thread

1/4-inch-wide elastic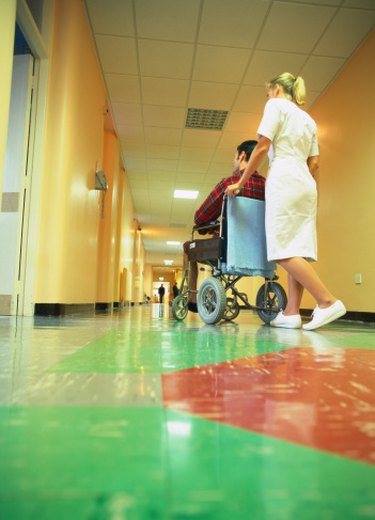 You can save a little bit of money by making scrub skirts at home for work in a hospital, nursing home, doctor's office or other medical venue. The skirts are easy to make and can be made from solid or patterned fabric, according to your preferences and work dress code. When working in a children's ward, consider making the skirt from a patterned fabric that will bring a smile to the patients' faces.
Step 1
Measure the circumference of the widest part of your hips. Add 1 inch to this measurement and divide in half. For example, if you obtain a measurement of 36 inches; add 1 inch, then divide by two for a total of 18.5 inches.
Step 2
Measure the distance from your natural waist to your knee and add 1 1/2 inches to the measurement.
Step 3
Trace a rectangle onto a piece of polyester-cotton blend fabric that measures the final measurement from Step 1 by the final length from Step 2. Cut out the rectangle and use it as a template to make a second identical rectangle.
Step 4
Lay one of the rectangles on top of the other with the good sides of the fabric facing inward. Pin the sides of the fabric together.
Step 5
Sew the long sides of the skirt together to make the side seams. When sewing by hand, reinforce the seam line by stitching over the edge a second time.
Step 6
Fold up 1/2-inch of the bottom edge of the skirt onto the wrong side. Pin the fold and sew the hemline with a straight stitch by hand or a zigzag stitch on the sewing machine.
Step 7
Fold over 1 inch of the top edge of the fabric onto the wrong side of the skirt. Sew the fold in place, leaving a tube of fabric to insert elastic. Leave 1/4-inch of the fabric open to insert the elastic.
Step 8
Cut a piece of 1/4-inch-wide elastic to the circumference of your natural waist. Hook a safety pin onto one end of the elastic and thread the elastic through the top edge of fabric.
Step 9
Sew the ends of the elastic to the skirt and then sew the hole in the top seam line closed.
Step 10
Turn the skirt right side out and try it on.
Warning
Be sure to check with your employer before wearing the skirt to work. Some employers prefer that employees where full-length pants to work to avoid skin contamination.