Things You'll Need
Dish soap

Cloth

Towels

Baking soda

White vinegar

Oven mitt or potholder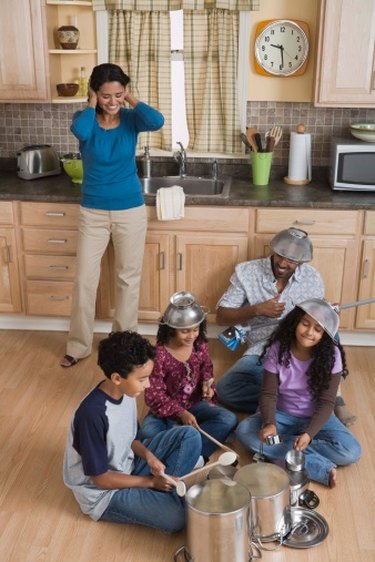 Cook, author and daytime talk show host Rachael Ray offers a variety of cookware for all your cooking needs. Keep in mind that many common household cleaners and tools -- such as abrasive powders and scouring pads -- can damage and scratch your Rachael Ray cookware. However, with proper care and cleaning, the cookware will last for years to come.
Step 1
Wash new cookware in warm, soapy water before use. Rinse with cool water and towel dry. Wash the cookware in the same manner after each use.
Step 2
Remove the protective coating added to copper bottom pans to prevent tarnishing during packaging by pouring 3 qts. of hot water into the pan. Add 3 tbsp. of baking soda and leave it for 20 minutes. Rinse with cool, running water and wipe dry with a towel.
Step 3
Remove stuck-on food from the Rachael Ray cookware by boiling equal parts water and white vinegar in the cookware. Wash the cookware as you normally would.
Step 4
Refrain from placing nonstick Rachael Ray cookware under your stove's broiler. However, you can place cookware with metal handles and those that are not nonstick under the broiler.
Step 5
Place nonstick pans on low to medium heat. Using high heat too often will cause warping and damage to the nonstick coating.
Step 6
Keep metal or sharp utensils away from nonstick pans. These utensils will scratch and damage the nonstick coating.
Step 7
Hand wash -- do not place in a dishwasher -- cookware that features porcelain enamel, hard-anodized aluminum, copper bottom or plain aluminum. Washing these types of cookware in the dishwasher will void their warranty.
Step 8
Wear an oven mitt or use a potholder when removing cookware from the oven. All Rachael Ray cookware is oven safe up to 350 degrees Fahrenheit. Refer to your specific type of Rachael Ray cookware packaging for more information.