Things You'll Need
Construction paper

Craft glue

Markers, paint or glitter glue

Straw

Clear tape

Candy lollipops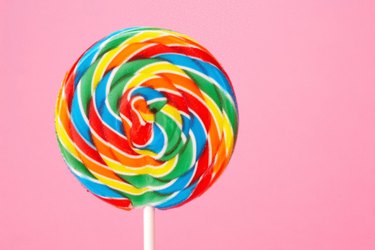 Paper lollipops can be a fun afternoon project for a single child or a group of children. The lollipops are easy to make and the kids can display their lollipop artwork when they are finished in small colorful vases of Styrofoam cups. You can also have the kids make a batch of heart-shaped paper lollipops for Valentine's Day and add a candy treat in the center of each to hand out to their special friends.
Paper Pinwheel Lollipops
Step 1
Trace three different size circles on three different colored pieces of construction paper. Trace an identical color and size circle on more construction paper using each circle.
Step 2
Place a little bit of glue on the back of the smallest and the medium-size circles. Place the medium-size circle in the center of one of the large circles and place the smallest circle in the center of the medium-size circle. Repeat this step with the remaining three circles.
Step 3
Decorate the joined circles. Make pinwheel stripes with markers, paint or glitter glue and allow the circles to dry.
Step 4
Make two slits in the top 2 inches of a straw and push on the straw to flatten it out slightly.
Step 5
Cut two pieces of clear tape and insert them into the slits in the straw with the non-sticky sides together.
Step 6
Place the straw on top of one of the lollipop circles. Place the other circle lollipop on top of the straw. Center the circle over the first circle and press firmly to attach the circles to the tape on the straw.
Step 7
Repeat the above steps to make more paper lollipops.
Paper Lollipops with a Lollipop Treat
Step 1
Cut a heart shape from a piece of construction paper and use the heart as templates to make a matching heart. Cut out two leaf shapes from green construction paper.
Step 2
Decorate one side of each heart with pictures, stickers or a special message.
Step 3
Place one heart on a flat surface, cover the heart in glue and place a candy lollipop on top of the heart.
Step 4
Cover one side of the matching heart in glue and place it on top of the candy lollipop.
Step 5
Spread a little bit of glue onto the edge of two leaves and press the leaves against the candy lollipop stick.