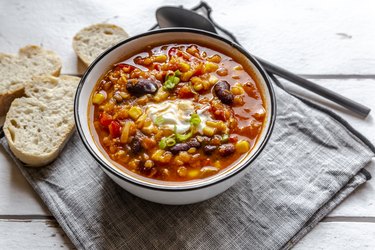 Chili is one of the most versatile recipes because you can use many ingredients, and there are versions for every taste. Sometimes, though, things can go awry in the kitchen, and you may have added too much of one ingredient, leading to issues like an overly prominent vinegar taste. The chili can become too sour or tangy, and you'll be left wondering how to fix the dish.
Chili is a fall favorite for many people, and there are many ways to cook chili. Since chili is all about bringing different flavors together and simmering them into the perfect batch, it's easy to add too much of a good thing. While this may not cause an issue if the ingredient is something like beans where you can scoop out the excess, it can cause a headache if it's too much of an overpowering flavor. There are a few ways to combat an issue like too much vinegar in chili.
If you've accidentally added too much vinegar to your chili, don't worry; there are ways to fix this unsatisfying taste issue. The challenge is neutralizing the vinegar's taste since it is so acidic. The flavor is due to the acetic acid content, which can vary from vinegar to vinegar. This variance is why it's easier to mask the vinegar taste of mild kinds of vinegar and why it's so hard to mask stronger ones.
There are a few ways to neutralize the vinegar in chili. One way is to add extra ingredients to balance out the flavors. This adjustment could mean adding more corn or meat to see if those flavors balance well. You can also try adding sugar, which will cut the vinegar's acidic flavor. Additionally, a minimal amount of baking soda is excellent at neutralizing vinegar. You want to be careful with adding baking soda, though. If you add too much, there is little hope of fixing the problem.
If you're a fan of curious origins, then chili should be on your list of curiosities. There are many different stories about how the first pot of chili came to be made; some are more outlandish than others. One of the more fantastical versions of the chili story is that Sister Mary of Agreda, a Spanish nun in the 1600s, had a vision that brought her the recipe. The fantastic part is that Sister Mary never left her convent, which means that this recipe was brought to her by a spirit.
What historians do know for sure is that the earliest account of the dish comes from a man visiting San Antonio in 1828, who wrote about the poorer families in San Antonio making a stew with peppers and meat and adding spices. In the 1880s, there were even chili stands that popped up around San Antonio, and women calling themselves "chili queens" served it. Today, chili is the official food of the state of Texas.
There are many different versions of chili, but there are a few versions that are a little different than the rest. For instance, there's Cincinnati chili, which may sound like just a chili from an Ohio city. While that's technically correct, the big difference regarding Cincinnati chili is that they serve their chili over spaghetti noodles. They also use spices like cinnamon in their chili, which tends to add some sweetness to the dish.
While Texas' version is chili con carne (or chili with meat), you can also make this dish vegetarian. To make a better veggie chili, substitute the meat for a variety of beans. Black beans, pinto beans and even kidney beans are great substitutes. Another option is to try a white chili, which is generally made with poultry of some type rather than beef. You could even make an excellent vegetarian chili mac, a vegetarian chili over macaroni noodles.