Things You'll Need
100 percent cotton fabric

Iron

Freezer paper or other stabilizer

Disappearing ink marking pen or No. 2 pencil

Stencil (optional)

Masking tape (optional)

Crayons

Ironing board

Newspaper or old towel

Paper towels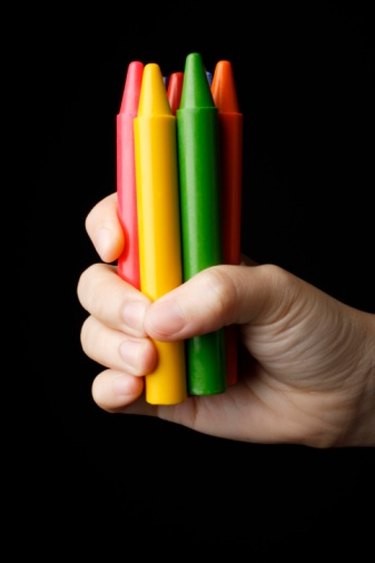 Crayon coloring on fabric is a craft that has occupied children and adults alike for many decades. It is faster than embroidery and less expensive than textile paint. It uses items that most households already have at hand or are easily obtained. This craft is usually reserved for quilts or other items that do not require frequent laundering, but can be used on garments if they are laundered with care.
Step 1
Wash and dry the 100 percent cotton fabric. Do not use fabric softener or dryer sheets.
Step 2
Iron the fabric onto freezer paper or other removable stabilizer.
Step 3
Draw or trace the design onto the fabric with a disappearing ink marking pen or No. 2 pencil, or lay a stencil on the fabric and tape it securely at each corner.
Step 4
Color in the design. Use firm pressure on the crayon to get smooth, even color.
Step 5
Protect the ironing board with newspaper or an old towel.
Step 6
Lay the design on the ironing board fabric side up and cover with a paper towel. Press with the iron set at wool or medium. Do not move the iron over the design. Pick it up and set it down overlapping the previous position. You will see wax collecting on the paper towel. Change the paper towel and press again. Continue to change the paper towel and press until all the wax is absorbed.
Step 7
Peel the freezer paper or stabilizer off and allow the fabric to cool before you use it.
Tip
If the first coloring is not dark enough, color and press it again. Don't remove the backing until you are finished. If you want to use synthetic fabric, you will need to use fabric crayons. If you need to wash your crayon colored item, use cool water and line dry.