Your wedding is one of the most romantic days of your life, and decorating with tulle and lights will reflect that. Tulle is a soft netting that can be used for the bridal veil and is often used for wedding decorations. It lends an enchanted look to a romantic setting. Adding lights to the gathered tulle will create a diffuse glow. Lights and tulle can be used as table decorations that will impress your guests with their elegance.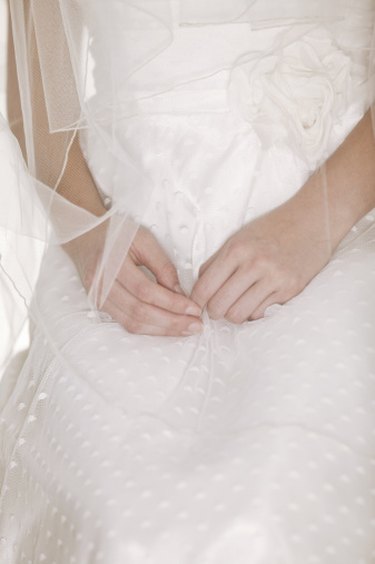 Things You'll Need
Battery-Powered Mini-Lights

Tulle Ribbon

Paddle Wire

Table Clips

Scissors

1 Bolt Of Tulle
Step 1
Measure the circumference of a reception table and add another 30 percent to the number. Cut that length of tulle, making one piece for each table. These pieces will be attached to the rims of your tables.
Step 2
Lay one length of tulle out flat and put a string of battery-powered lights down the center of the tulle. Gather the tulle at 4-foot intervals and lightly twist some paddle wire at these points to secure the tulle and lights together. There should be soft folds in the tulle and the lights should be hidden by the fabric.
Step 3
Attach the tulle to the rim of a table, placing clips at the spots where the tulle is paddle-wired. Allow the tulle to drape in a curve between each pair of clips. Ensure the switch for the lights is accessible. When the lights are turned on, they will look diffused and soft inside the tulle.
Step 4
Make bows with tulle ribbon. Attach the bows to the table clips by twisting a loop of paddle wire around the center of the bow and looping it around the clip. Arrange the bows so they hide the clips and paddle wire. Repeat Steps 2 through 4 for each table.
Step 5
Cut 1 yard of tulle and arrange it under and around a table centerpiece in soft folds. Tuck a string of lights under the tulle so the lights are hidden in the fabric. They will give a soft glow in the center of the table. Repeat for each table.
Tip
Tulle comes in all colors. White is traditional for weddings, but the tulle hue can be coordinated with the colors of the flowers or the wedding colors. The amount of tulle you will need depends on the table size(s) and the number of tables to be decorated. LED lights give off less heat then other types of lights and are recommended for this project.