Things You'll Need
3 thin-sliced pork chops (sometimes sold as "breakfast pork chops," usually around 1/2 or 3/4 inch thick)

Frying pan

Flour

Salt

Pepper

Cooking oil

Plate

Aluminum foil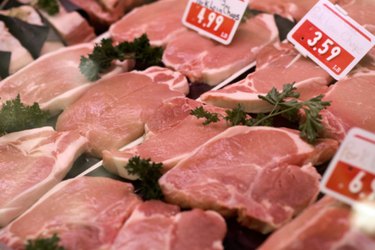 Pan-fried pork chops are a quick and easy dinner idea. Including prep time, you can have a plate of pork chops ready for your family or friends to enjoy in less than 20 minutes. In addition to being quick to prepare, pork chops are also versatile, meaning you can pair them with many different sides and sauces. If you need a quick meal that can pair with a number of side dishes, pan-cooked pork chops are a good choice.
Step 1
Rinse the pork chops and pat dry with a paper towel.
Step 2
Sprinkle both sides of each chop with salt and pepper.
Step 3
Lightly oil the bottom of the pan and turn up the heat to medium-high.
Step 4
Cook pork chops 3 minutes on one side, turning and cooking 2 to 3 minutes on the other side.
Step 5
Remove chops from pan and set aside on a plate covered with aluminum foil.
Step 6
Deglaze the pan. This involves using some type of liquid to create a pan sauce from the browned bits left behind in the pan after cooking. You can use any liquid, based on what flavor you want to create. For example, you could use white wine and chopped onions for a French-style sauce, or sake and soy sauce for an Asian-style sauce. Simmer the liquid of your choice for a few minutes over high heat until it reduces slightly.
Step 7
Place pork chops on a plate and smother with sauce. Serve immediately.